Civilian fears in Sri Lanka war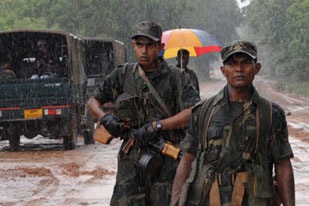 The UN children's fund has warned that children are increasingly bearing the brunt of the conflict in Sri Lanka after the military pinned Tamil Tiger rebels into a small area on the coast.
The Sri Lankan army says the long-running conflict with the Liberation Tigers of Tamil Eelam (LTTE) could end within days after the separatists were cut off by land and sea.
But there are still fears for the about 250,000 civilians trapped in the area as aid agencies report increased casualties from the fighting.
"It is becoming increasingly clear that a growing number of children, some of them months old, have been caught in this conflict in the past 10 days," James Elder, a Unicef spokesman, told Al Jazeera on Saturday.
"A UN convoy was able to leave the frontline on Thursday and managed to take out 50 children injured from the conflict. [They had] shrapnel wounds, burn wounds. And they have been taken to a government hospital where they are getting support.
"Obviously these children are at great risk: they are getting caught in the crossfire."
Lisabeth List, a medical co-ordinator of Medicins Sans Frontieres (MSF) in Sri Lanka, told Al Jazeera that she had seen women, children and elderly people whose limbs had been amputed as a result of injuries sustained in the fighting.
"We saw a young boy with both arms amputated. We have seen malnourished children," she said.
Safe passage

Red Cross officials have asked the Tamil Tigers to allow civilians to leave the area.
"We are negotiating with the LTTE to ensure safe passage for many more patients that need urgent medical attention," Sarasi Wijeratne, an ICRC spokesperson, told the AFP news agency.
But the government on Friday rejected calls for a ceasefire, vowing to continue the military offensive against the Tigers.
P. Ramasamy, a former adviser to the Sri Lankan peace process, told Al Jazeera that government troops were "actually firing on innocent Tamil civialins women and children".
He said that the Tamil Tigers were not opposed to facilitating the safe passage of civilians, but questioned why Tamil civilians should have to leave.
"There are homes of Tamils who have been living there. Why should they go to different zones just because the Sri Lankan government thinks this is the only way to defeat the LTTE? To me this does make sense at all," Ramasamy said.
Mahinda Samarasinghe, Sri Lanka's human rights minister, told Al Jazeera: "Our fight is not with the civilians. These are Sri Lankan citizens. These are our people. Our fight is with terrorism, and we want to eradicate terrorsim and restore democracy and ensure people's rights which are enshrined in the constitution."
He said the military would continue to take on "precise LTTE targets".
"We have not at anytime fired into civilian areas. We will not do that in future. Our obejective is to ensure civilian safety," he said.
Shelling claims

The military has accused the Tamil Tigers of using civilians as human shields and firing artillery into an army-declared no-fire zone with the hope of creating a crisis to build pressure for a truce.
(For updates you can share with your friends, follow TNN on Facebook, Twitter and Google+)