UN urges safety of civilians as Sri Lanka presses for victory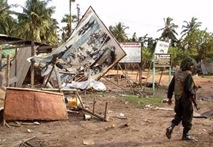 Red Cross officials were in negotiations on Saturday with Sri Lankan Tamil rebels to evacuate more wounded as the island's military kept up its push to crush the separatist forces.
"We are negotiating with the LTTE (Liberation Tigers of Tamil Eelam) to ensure safe passage for many more patients that need urgent medical attention," ICRC spokeswoman Sarasi Wijeratne told AFP.
She would not say how many patients "critically wounded" in the conflict and others suffering from heart ailments and other conditions might be brought out of Puthukkudiriruppu which lies behind LTTE front lines in Mullaittivu district.
On Thursday, the UN evacuated 350 wounded civilians, including 50 children, after negotiations with the Tigers, who have been accused by Sri Lanka's government of holding 250,000 civilians hostage in an area they still hold.
Tiger political head B. Nadesan denied its fighters were holding civilians as "human shields", the pro-rebel Tamilnet.com website reported on Thursday.
"We have not imposed any restriction on individuals," Nadesan said.
The negotiations for the passage of more wounded came after UN chief Ban Ki-moon on Friday appealed to the warring parties to allow civilians trapped behind the front lines to exit the area.
"The Secretary General calls upon the… LTTE, in particular, to allow civilians in the conflict zone to move to where they feel most secure, including (to government-controlled) areas," Ban's press office said.
He also urged the government to ensure that civilians arriving from conflict areas were treated in "accordance with international standards", including being given freedom of movement and full access by humanitarian agencies.
The UN chief said he remained concerned about the fate of civilians, including tens of thousands of children, despite Sri Lankan President Mahinda Rajapakse's declaration of safe passage for them.
He called on both Colombo and the LTTE "to do all in their power to make this safe passage a reality and to ensure the protection of civilians in accordance with international humanitarian law".
The UN agency for children earlier asked both Sri Lanka's government and the LTTE to give "absolute priority" to the safety of children and the civilian population caught up in the fighting.
government UNICEF gave no figures, but the ICRC has said "hundreds" of civilians have been killed this month and "scores" wounded.
Sri Lanka's government denies it targets civilians.
"We have clear evidence that children are being caught in the crossfire, and that children are being injured and killed," said UNICEF's Regional Director for South Asia, Daniel Toole.
A group of international relief organisations, including UN agencies, appealed to the LTTE to allow civilians to leave areas under its control and asked the government to stop blocking international aid.
Sri Lanka's human rights minister, Mahinda Samarasinghe, said Friday there would be no let-up in the military campaign against the LTTE despite calls for a truce.
Sri Lanka's defence ministry says it is in the final phase of operations against Tamil Tiger guerrillas to end the long-running ethnic conflict.
(For updates you can share with your friends, follow TNN on Facebook, Twitter and Google+)