S Lanka threat on 'foreign bias'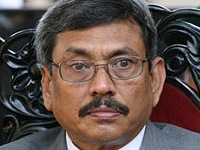 Sri Lanka has warned diplomats, aid agencies and media, including the BBC, that they will be expelled if they seem to favour the Tamil Tiger rebels.
Defence secretary Gotabaya Rajapaksa said bias among some foreigners was damaging security forces as they dealt the "final blow" to the rebels.
The warning comes amid growing concern for civilians trapped in the war zone during the army's latest offensive.
The army has pushed the Tiger forces into a narrow pocket of land.
Aid agencies say about 250,000 civilians are behind rebel lines, though the government says the number is lower.
Civilians face increasing dangers as heavy fighting closes in and food stocks run low, the agencies report.
he Red Cross says hundreds of civilians have been killed in fighting in recent days.
The Sri Lankan government accuses the Liberation Tigers of Tamil Eelam (LTTE) of not allowing civilians to leave, saying they are being used as human shields.
The rebels say the civilians prefer to stay where they are.
The reports can not be independently confirmed as neither side allows journalists near the war zone.
'Act responsibly'
In an interview with the Sunday Island newspaper, Mr Rajapaksa accused the ambassadors of Switzerland and Germany, and news organisations the BBC, CNN and Al-Jazeera of being biased.
"They will be chased away [if they try] to give a second wind to the LTTE terrorists at a time when the security forces, at heavy cost, are dealing them the final blow," he was quoted as saying.
Mr Rajapaksa said the media organisations were sensationalising civilian hardships by playing video clips from Tamil Tiger websites.
Separately, a defence ministry spokesman said the army will resume its offensive against the Tamil Tigers after a 48-hour truce to allow civilians to leave the combat zone expired, Reuters news agency reported.
"We will now have to save the civilians and move in," the spokesman, Kaheliya Rambukwella, said.
"It is now very evident that [Tamil Tiger leader Valupillai] Prabhakaran is… using civilians as cover," Mr Rambukwella said.
"We will take the utmost care of civilians when we move in."
On Thursday, the government announced a truce of 48 hours to allow civilians to leave the area and on Saturday said several hundred people had crossed the lines into government-held territory.
The military has captured the key towns of Kilinochchi, Mullaitivu and the strategically important Elephant Pass to the Jaffna peninsula in recent weeks.
(For updates you can share with your friends, follow TNN on Facebook, Twitter and Google+)