Deadly strike on S Lanka hospital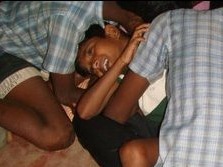 Nine people have been killed by shells which hit a hospital in a rebel-held area of north-east Sri Lanka, the Red Cross says.
The hospital, in the town of Puthukkudiyiruppu, Mullaitivu district, was hit three times in 24 hours, aid officials said.
UN spokesman Gordon Weiss told the BBC the shells had hit a crowded paediatric unit. It is not clear who fired them.
Sri Lanka's army has denied it was behind the shelling.
There has been no comment so far from the rebel group, the Liberation Tigers of Tamil Eelam (LTTE).
Puthukkudiyiruppu is situated in an enclave held by the rebels, and is home to tens of thousands of civilians.
Details unclear
Mr Weiss said the first shell hit the hospital – one of area's last functioning health facilities – shortly before midnight (1830 GMT).
He said the last message the UN had received from their staff member on the ward said: "Woman and kids' ward shelled… Still trying to count the dead bodies."
He said it was not yet clear how many people had been killed but that the hospital had been so full, with many patients lying on the floor, anything landing on it was "almost guaranteed to cause significant casualties".
Mr Weiss called the strikes "significant breaches of international humanitarian law".
The earlier strike prompted a protest from the Red Cross.
"We're shocked that the hospital was hit, and this for the second time in recent weeks," said Paul Castella, head of the Colombo delegation of the International Committee of the Red Cross (ICRC).
"Wounded and sick people, medical personnel and medical facilities are all protected by international humanitarian law. Under no circumstance may they be directly attacked."
'Protection'
The hospital, which has some 500 inpatients, is one of the few still operating in the region.
An army offensive has pushed the rebels into a 300 sq km (110 sq mile) corner of jungle in the north-east of the island, which aid agencies say also holds 250,000 civilians.
The government says the number of civilians is closer to 120,000 and that the army has a policy of not firing at civilians.
It accuses the Tamil Tigers of not allowing civilians to leave, saying they are being used as human shields.
The rebels say the civilians prefer to stay where they are under rebel "protection".
The reports cannot be independently confirmed as neither side allows journalists near the war zone.
(For updates you can share with your friends, follow TNN on Facebook, Twitter and Google+)