Rajapakse, Karunanidhi governments similar ideologically: Dr.S.Ramadoss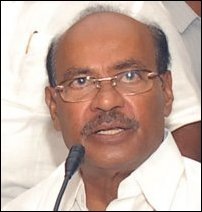 MK founder-leader Dr. S. Ramadoss launched a direct attack on Tamil Nadu Chief Minister Kalaignar M. Karunanidhi over the Eelam Tamils issue Tuesday. He criticized the DMK Executive Council resolutions for not containing any ceasefire demand. "Does Karunanidhi not know that ceasefire is a prerequiste for peace-talks? Does this omission not reveal that the Rajapakse Government and the Karunanidhi Government are no different at the ideological level?" he said.
The PMK leader said that the DMK Government had "washed his hands off" the Eelam Tamils. The creation of a welfare organization for Lankan Tamils was done as early as 1958 by the DMK. Ramadoss wondered why the DMK was pulling the Eelam struggle back by half a century.
Dr Ramadoss also criticised Karunanidhi for issuing a warning that the National Security Act would "leap" on anybody indulging in violence during Wednesday's general strike. "This could be ploy to create some ruckus and push the blame onto us," he observed.
Responding to Karunanidhi's charge that he was conspiring to topple the State Government, Dr.S.Ramadoss said that he was unaware of any such scheme. "Karunanidhi owns the complete lease for qualities like intrigue and vengenance" he said.
He also pointed out that though Karunanidhi had been incessantly harping on the illegality of the general strike and had issued warnings against it, the Supreme Court of India had declined to stay the strike. Therefore, he is calling our strike as a conspiracy to topple his government, Dr.Ramadoss said. On Tuesday, a Bench comprising Chief Justice K G Balakrishnan and Justice Sadasivam had observed in court that there was nothing the Supreme court could do because it was the people's right to express their feelings.
(For updates you can share with your friends, follow TNN on Facebook, Twitter and Google+)