Ruling DMK favours UN intervention to save civilians in Lanka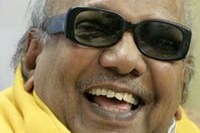 Softening its stand, the ruling DMK in Tamil Nadu today favoured the intervention of the United Nations (UN) to save the civilians caught in the cross-fire between Sri Lankan armed forces and the LTTE, while deciding to organise peaceful agitations to explain the plight of the Lankan Tamils and seek ceasefire.
The party's executive committee, chaired by Chief Minister and party president M Karunanidhi, contrary to expectations that it would take some drastic decisions to exert pressure on the Congress-led UPA government at the Centre to ensure ceasefire, decided to form a front to carry out peaceful agitations to draw the attention of the Centre and Lankan government on the demand for ceasefire.
The executive adopted a resolution to form a "Sri Lankan Tamils Welfare and Rights Forum" to spearhead the agitations throughout the state to explain the plight of the Lankan Tamils and pressurise the Centre and Lankan Governments to ensure ceasefire.
The forum, with the support of like-minded parties, social organisations and Tamil scholars, would strive for securing the Lankan Tamils, the right to live, ensure ceasefire and pave way for restoration of peace and find a solution to the ethnic crisis, in a democratic manner, the resolution said.
The forum would organise a series of peacefull rallies, campaign meetings in the city on February 7 and throughout the state on February 8 and 9 to ensure that "our voice and demands reached the Centre and the Lankan governments," the resolution said.
(For updates you can share with your friends, follow TNN on Facebook, Twitter and Google+)