SLAF personnel being trained in Tamil Nadu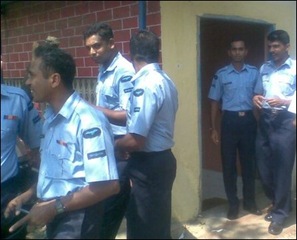 Eight pilots of the Sri Lankan Air Force (SLAF) are presently undergoing training at the Indian Air Force base at Thaamparam (Tambaram) near Chennai in Tamil Nadu, highly placed sources told TamilNet. News of this training spread like wildfire when the Sri Lankan Airforce personnel were taken Monday to the Chealaiyoor (Selaiyur) police-station for visa verification purposes. "People of Tamil Nadu need no further proof that this war of decimating Tamils in Sri Lanka is being undertaken at India's insistence and instructions. This confirms our fears that Indian troops have also been sent to fight there," a veteran Tamil activist told TamilNet.
"Even as the Indian Government is shedding crocodile tears about the safety of several hundred thousand Tamil civilians subjected to artillery shelling and aerial bombing in the Vanni, it has taken upon the treacherous mission of training pilots of the Sri Lanka Air Force," he added supplying photographic evidence of SLAF personnel coming out of the Selaiyur policestation.
According to eye-witness accounts, including the photographer of a popular daily in Tamil Nadu, the SLAF pilots were accompanied by their Indian Air Force counterparts.
"The training mission has been undertaken when the genocidal war has revealed its cruelest face ever, killing scores of Tamils everyday, most of them helpless children stuck in the "safety zone" declared by the Sri Lankan Government, the Tamil activist who didn't wish to be named said.
Only Tuesday morning, Tamil Nadu Chief Minister Karunanidhi had rubbished all claims by MDMK General Secretary Vaiko that India was assisting Sri Lanka militarily.
(For updates you can share with your friends, follow TNN on Facebook, Twitter and Google+)