Sri Lanka takes Tiger chief's bunker: army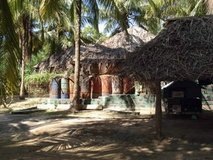 The Sri Lankan army said Tuesday it had captured an elaborate underground bunker complex believed to have been the home of the leader of the Tamil Tiger rebels.
Soldiers seized the facility amid a fresh escalation of fighting in the northeast, where government troops are pressing on with an all-out assault on the remaining patch of jungle held by the ethnic guerrillas.
The renewed fighting came as the government said the battle against the cornered Tigers was at a "decisive stage" and that it could not guarantee the security of tens of thousands of civilians trapped in rebel-held territory.
The captured two-storey-deep bunker had sound-proof electricity generators, air conditioning and medical supplies and was hidden in a coconut grove in Mullaittivu district, the defence ministry said.
It described the site as the "main LTTE (Liberation Tigers of Tamil Eelam ) hideout" and "a major residential site" of rebel leader Velupillai Prabhakaran.
Pictures released by the defence ministry purported to show that Prabhakaran had left behind a stuffed Tiger, a paintball gun and a bottle of cognac.
At least 20 guerrillas were killed trying to defend the facility and another 12 rebels died in other clashes on Monday, the ministry said.
The whereabouts of Prabhakaran, 54, are not known, but Sri Lanka's military has said the Tiger chief may have already fled the island by boat.
Sri Lanka's government pulled out of a Norwegian-brokered truce a year ago, and a subsequent offensive has seen the LTTE's territory shrink from some 18,000 square kilometres (7,000 square miles) to an area of less than 300 square kilometres (110 square miles).
The government says the rebels are using at least 120,000 civilians as a human shield. The United Nations says a quarter of a million people are trapped by the fighting.
Two senior US senators jointly urged Sri Lanka's government and Tiger rebels to safeguard civilians and ease humanitarian access to the north.
Democrat John Kerry, chairman of the Senate Foreign Relations Committee, and Republican Richard Lugar, the panel's top Republican, said they were "greatly concerned about the deteriorating humanitarian situation".
"We urge the Government of Sri Lanka and the Liberation Tigers of Tamil Eelam to immediately take all necessary steps to protect civilians and facilitate humanitarian access," the lawmakers said in a joint statement.
(For updates you can share with your friends, follow TNN on Facebook, Twitter and Google+)