Sri Lanka predicts imminent victory over rebels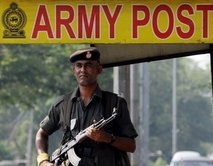 Sri Lanka's president predicted Wednesday the total defeat of Tamil Tiger rebels within a few days, as the United Nations reported 52 civilians had been killed in a single shell attack.
In a national day address, President Mahinda Rajapakse said the "shadows of terrorism have almost been wiped out" with the last remnants of the Liberation Tigers of Tamil Eelam (LTTE) cornered in the jungle.
"I am confident that the Tigers will be completely defeated in a few days," he said.
A military offensive over the past year has dismantled the Tigers' mini-state in northern Sri Lanka, where the rebels have lost 98 percent of the territory once under their control.
But amid continuing fierce clashes, UN spokesman Gordon Weiss told AFP that at least 52 civilians were killed in one shelling attack on Tuesday evening.
"We don't know who is responsible or how many shells hit, but we have this report from our staff," he said.
He added the region's only hospital was evacuated early Wednesday after 16 hours of shelling that included a cluster bomb attack.
civilians As many as 250,000 civilians may be trapped in the combat zone, according to UN agencies.
Foreign governments, including the island's key backers, said the bloodshed must end.
US Secretary of State Hillary Clinton and her British counterpart David Miliband called Tuesday for a "temporary no-fire period" to evacuate casualties and allow relief in.
hostilities "Both sides need to allow civilians and wounded to leave the conflict area and to grant access for humanitarian agencies," they said after meeting in Washington.
The joint US-British statement came after the quartet of Sri Lanka's international backers — the United States, European Union, Japan and Norway — called on the rebels to negotiate terms of surrender to avoid a bloodbath.
The quartet, known as "Co-Chairs," had backed Oslo-led peace moves and in April 2003 co-hosted a donor conference that raised 4.5 billion dollars in support of efforts to end ethnic hostilities in the South Asian nation.
"There remains probably only a short period of time before the LTTE loses control of all areas in the north," they said in a statement.
"The LTTE and the government should recognise that further loss of life of civilians and combatants will serve no cause," they added.
There was no immediate reaction from the Tigers and the quartet said their efforts to persuade the LTTE to allow civilians to flee the fighting had failed.
(For updates you can share with your friends, follow TNN on Facebook, Twitter and Google+)