Nayantara fights back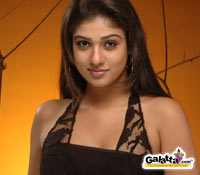 Nayantara has become a symbol of courage for several young women overnight, as she announced that she will not yield to the pressure of the ban imposed on her; rather, she would fight for her cause, she says.
The Producers' Council and Nadigar Sangam have recently imposed a ban on Nayantara for (allegedly) refusing to return the signing amount (Rs. 20 lakhs) for Paiya, a Karthi starrer from which she backed off.
Let's take a look at what's happening and what both parties have to say.
Producers' contention: Linguswamy and Subash Chandra Bose ask why they have to pay an actor so heavily, when she did nothing other than wait for a project. They have offered that Nayantara can keep Rs. 5 lakhs as compensation and return the rest of the money.
Nayantara's contention: She says that she has incurred heavy losses (running into crores) by refusing several other lucrative film offers because she had alloted dates for Paiya. It is hardly her fault that they did not shoot on those dates, she says. Above all, the offers she missed went to other actresses in the industry, jeopardizing her position. The actress said she tolerated all this, but the producers' unwillingness to pay her the promised salary was the last straw and she backed out of the project. So Nayantara argues that the producers should compensate her instead of demanding the return of the signing amount.
But now, the actress states that it is not about money anymore – it has become a matter of honour. Arguing that the Producers' Council and Nadigar Sangam are gender-biased, Nayantara pointed out that several heroes have walked away with signing amounts in the past, some without justifiable cause, yet no action was taken on these heroes by the Council and Sagam. Nayantara says she is being taken for granted in this male-dominated industry and she is just not going to let that happen.
Meanwhile, several actors are also questioning the Nadigar Sangam's dictat. They say the Nadigar Sangam failed to support a thoroughly disciplined and committed actress, who always supported its decisions and causes.
(For updates you can share with your friends, follow TNN on Facebook, Twitter and Google+)