SLAF bombs Ponnampalam hospital, 60 patients feared killed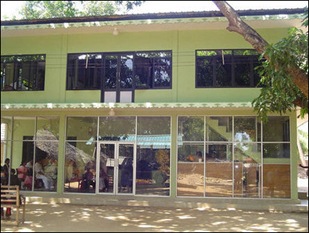 Sri Lanka Air Force (SLAF) bombers on Friday bombed and fully destroyed Ponnampalam Memorial hospital in Puthukkudiyiruppu (PTK), killing scores and wounding many, according to initial reports received from PTK. The Sri Lanka Army (SLA) launched indiscriminate artillery barrage on the hospital, totally disabling the rescue of the surviving patients. Initial reports said 40 patients warded there were killed, but latest reports put the casualty figure at 60, which is yet to be verified by the hospital authorities. The bombardment comes after US Secretary of State Hillary Clinton and British Foreign Secretary David Miliband urging the warring parties not to attack medical facilities both within and outside the safety zone following the claim by SL Defence Secretary Gotabhaya that hospitals outside safety zone were legitimate targets.
Ponnampalam memorial hospital is a modern non-governmental medical facility which started functioning in 1996. It was named after Dr Ponnampalam who was well known for his dedicated services in Jaffna district during the war years.
A number of foreign experts and diaspora doctors were actively engaged in developing the hospital to a modern facility during the CFA period.
"Fixed establishments and mobile medical units of the Medical Service may in no circumstances be attacked, but shall at all times be respected and protected by the Parties to the conflict," states the First Geneva Convention.
Article 18 of the Fourth Geneva Convention states that the civilian hospitals organized to give care to the wounded and sick, the infirm and maternity cases, may in no circumstances be the object of attack, but shall at all times be respected and protected by the Parties to the conflict.
Sri Lanka (Ceylon) is a signatory to the First, Second and Third Geneva Conventions and it ratified the Fourth Geneva Convention of 1949, by accession to it, on 23.02.1959.
(For updates you can share with your friends, follow TNN on Facebook, Twitter and Google+)