Sri Lanka says Tigers behind ceasefire calls: report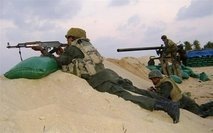 Sri Lanka pushed its offensive against the Tamil Tigers Saturday, as the country's top defence official accused the rebels of infiltrating international organisations in a bid to force a ceasefire.
As fresh fighting was reported in the north, Defence Secretary Gotabhaya Rajapakse was quoted in the state-run Daily News as saying international relief agencies as well as news organisations were doing the Tigers' bidding.
While foreign governments and agencies have called on Colombo to halt its offensive against the Liberation Tigers of Tamil Eelam (LTTE) to avoid civilian casualties, the government has refused, saying it is on the verge of victory.
"There is a well orchestrated campaign to discredit the government and the security forces and bring pressure on it to declare a ceasefire by LTTE agents who have infiltrated international organizations and media institutions," Rajapakse was quoted as saying by the Daily News.
While Sri Lanka has resisted calls for a "no fire period" to allow civilians to get out of the conflict zone, rights groups and foreign governments have also accused the Tigers of holding civilians as a human shield.
Rajapakse said people allegedly in the pay of the Tigers were "fabricating stories to invent a scenario of a human catastrophe and are disseminating false information."
Rajapakse, who is the younger brother of President Mahinda Rajapakse, said there were fewer than 100,000 civilians trapped by the ongoing fighting in the northeast of the island, while UN agencies have put their numbers at 250,000.
"The actual number of civilians trapped in the Wanni is less than 100,000," he said.
His remarks came a day after a stone-throwing mob attacked the office of the International Red Cross in Sri Lanka's capital, as Colombo accused the agency of inciting panic over civilian deaths from the fighting.
Government spokesman Keheliya Rambukwella said the International Committee of the Red Cross (ICRC) had placed an order for 35,000 body bags to be used in the northeast
ICRC spokeswoman Sophie Romanens confirmed an order for body bags but rejected the figure provided by Rambukwella.
"We help in the transfer of bodies of combatants across the front lines and for this we need body bags, but the number we have ordered is far, far less than 35,000," she said.
The ICRC has a presence in Sri Lanka's embattled northeast and has also acted as a neutral intermediary in transporting the remains of combatants across front lines.
Those front lines were moving rapidly on Friday with the military taking more bases from the Tamil Tigers, who have been pushed back into a narrow patch of coastal jungle in Mullaittivu.
(For updates you can share with your friends, follow TNN on Facebook, Twitter and Google+)