80 killed, 200 wounded, carnage continues inside 'safe zone'
Sri Lanka Army (SLA) continued indiscriminate barrage of artillery shelling on the 'safety zone' killing more than 80 civilians and causing injuries to 200. Most of the casualties were reported along the roads. Every single shell fired by the SLA was exploding in densely populated civilian area and people were forced to stay inside bunkers. However, as people feared ending up in the hands of the SLA which is close to Chuthanthirapuram, they were fleeing in thousands further into LTTE territory amid shelling, facing deaths and injuries on their way, said TamilNet correspondent in Vanni. According to eyewitness reports, 40 dead bodies of civilians, including children and women, were seen along the 2.5 km stretch of Paranthan Puthukkudiyiruppu Road between Chuthanthirapuram and Theavipuram.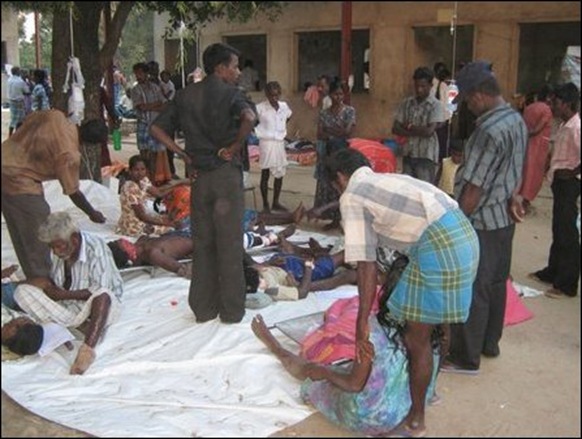 20 more bodies were seen along 1.5 km stretch of Vaakeesan Road. At least 20 civilians were killed in Va'l'lipunam.
Thousands were fleeing from Chuthanthirapuram where the SLA mortar and artillery attacks were targeting civilians.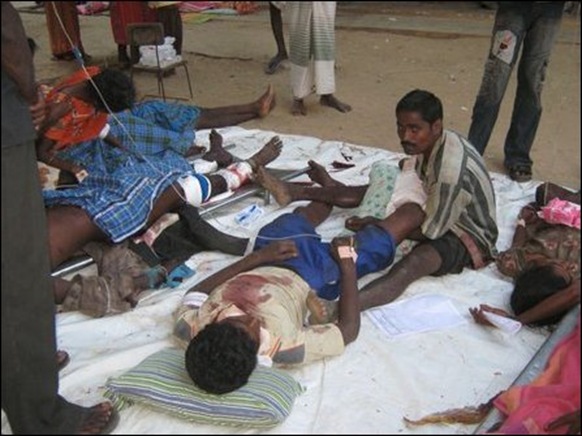 A shell exploded inside a bunker in Va'l'lipuan, killing 3 inside the bunker and causing injuries to 4. The victims, buried inside the bunker, were recovered amid relentless shelling.
It takes more than 7 hours to bring the wounded to makeshift hospitals functioning.
More than 500 houses and huts were damaged on Sunday.
(For updates you can share with your friends, follow TNN on Facebook, Twitter and Google+)