Diaspora Tamil dies in self-immolation urging Obama to stop Colombo's war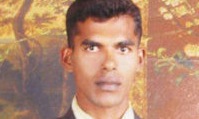 27-year-old Eezham Tamil, Raja, living in Malaysia for 3 years set fire on himself and died Friday leaving a note in his diary saying "I am burning myself to death resting my hopes on global Tamils to save the Eezham Tamils. I plead American President Barack Obama to bring in a ceasefire in Sri Lanka." This is the first act of self-immolation committed by a person of the Eezham Tamil diaspora. Three people in Tamil Nadu have already died by self-immolation in support of Eezham Tamils.
"My name is Rajah, born on 27 May, 1982. I came to Malaysia seeking employment on 02 October, 2006 and I found a good job. Why am I burning myself to death? For permanent ceasefire and immediate peace talks in Sri Lanka," reads a note from his diary.
"American President Obama should go to Sri Lanka immediately," was the desperate message of the letter.
"Indian Prime minister Manmohan Singh, Tamil Nadu Chief Minister Karunanidhi, Norway's Peace Envoy and Vaiko, the General Secretary of Tamil Nadu MDMK, should accompany the American President," the letter further read.
"I want this diary to be given to Vaiko so that he could fulfill my final wishes," was the last sentence in the letter.
A taxi driver saw a human figure in flames as he was driving along Jalan Thaman Street and though he ran to the burning youth with a bottle of water he was already dying.
Malaysian police recovered a diary, a purse, a box of matches and a bag near Raja's body.
Raja burnt himself to death near the car sale firm in front of Muneesvarar temple at 6:30 a.m.
Rajah used to come to Muneesvarar temple in the nights and say prayers loudly to save Eezham Tamils from the Sri Lankan military, the residents of the area said.
(For updates you can share with your friends, follow TNN on Facebook, Twitter and Google+)