Good old game of Sinhala chauvinism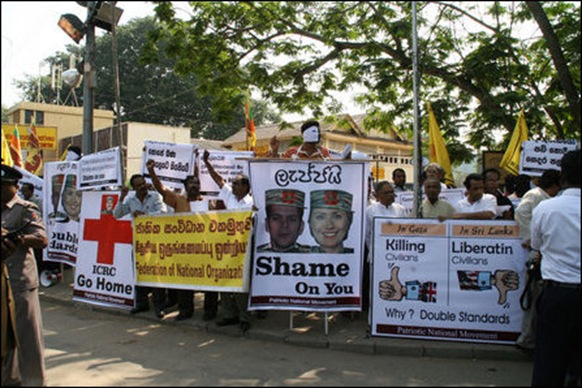 The tactics that are played at every juncture during the last several decades by Sinhala chauvinism against Tamil emancipation in the island of Sri Lanka were re-enacted in Colombo Tuesday when Patriotic National Movement (PNM), an outfit of Rajapaksa circle, staged a demonstration against ICRC, USA and Britain, even for their minimal engagement and token gestures to the sufferings of Tamils, journalistic circles in Colombo commented. "It is but only a taste of what to follow for those who envisage a political solution of lasting peace within the state system of Sri Lanka," said a senior journalist.
Gunathasa Amarasekara, the president of the the Patriotic National Movement (PNM) while addressing the protestors who gathered in front of the British High Commission between 10:00 and 11:00 a.m. on Tuesday, accused America and Britain for sabotaging the 'victory' of the Sri Lankan armed forces.
The demonstrators carried placards thanking India, China and Russia for their support to the war.
The protestors also shouted slogans against the ICRC and demanded the agency to leave Sri Lanka, accusing it for "helping the Tigers."
Norway, which usually faces the brunt of such demonstrations, seemed to have escaped this time.
The PNM is an alliance of extreme Sinhala nationalists formed and backed by Wimal Weerawansa, who now heads a dissident group of the JVP, which is a tactical ally of the Sri Lankan President Mahinda Rajapaksa.
Such demonstration-tactics were played ever since 1956, at every time political solutions were mooted out and governments had to yield in.
The same tactics are over-sensitively staged today by the deliberations of Sri Lankan government agencies and diplomats in the international arena on one hand, and by demonstrations of orchestrated masses in Colombo against international opinion on the other hand.
(For updates you can share with your friends, follow TNN on Facebook, Twitter and Google+)