Tigers deny firing at civilians, accuse SLA, urge for international monitors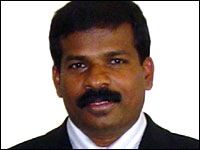 Categorically denying reports by the Sri Lankan military officials in Colombo that the Tigers had fired at the fleeing civilians in Vanni, Puthukkudiyiruppu Divisional Political Head of the LTTE, C. Ilamparithy told TamilNet Wednesday that Sri Lanka Army (SLA) commando teams had entered the 'safety zone' in Udaiyaarkaddu and Chuthanthirapuram and had opened fire killing civilians and causing injuries to many in their attempt to forcibly move the civilians into the hands of the SLA. "Sri Lankan military machinery, which has relentlessly killed and maimed thousands of civilians during the past four weeks, is now engaged in a propaganda drive to divert the mounting pressure on the Colombo government by the International Community," Mr. Ilamparithy charged.
"Our political head has repeatedly urged the International Community to act to ensure the safety of the civilians, their access to humanitarian supplies and medical care," said the former LTTE political head of the Jaffna district.
"The 'safety zone' unilaterally announced by the Colombo government has been turned to a killing field by the Sri Lankan military," he said and called on the International Community to act fast to ensure "an internationally guaranteed and protected safety zone for Vanni civilians in the very place where they live."
Ilamparithy was engaged in organising refuges for civilians who were fleeing further into LTTE controlled territory in Puthukkudiyiruppu.
"Colombo is committing the worst crimes of humanity, by killing and maiming hundreds of civilians every day within the 'safety zone', and by indiscriminately bombing medical installations," he said and added that by refusing food and medicine to thousands of people, the Rajapaksa regime was using food and medicine as weapons of war.
"The people of Tamil Nadu and the diaspora Tamils, fully aware of the plight of their brethren, have been exerting pressure on the IC to act before it is too late."
"As pressure is mounting on all fronts, the Colombo government has let lose vicious propaganda," he said.
The International Community must ensure presence of international protection and monitoring authorities to assure the safety of the civilians, including the wounded patients and their guardians who accompany them, Ilamparithy said.
"The civilians are scared of the reports of torture, harassment and separation of young members of the civilian population from their families at the internment camps of the SLA."
(For updates you can share with your friends, follow TNN on Facebook, Twitter and Google+)