Burnt bodies of 2 Tamil youths recovered in Vavuniyaa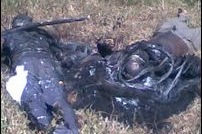 Bodies of two Tamil youths burnt beyond recognition were recovered from Chamayaapuram in Kaneasapuram area in Vavuniyaa district Wednesday morning by the Vavuniyaa police. Both had been abducted by unidentified armed persons few days ago from their residences, according to the relatives in statements to Vavuniyaa police.
The bodies had been found lying along Ma'nipuram Road in Ganeshapuram area. Both bodies had been identified by their relatives as of 31-year-old Selvaretnam Sathananthan and 26-year-old Saravanamuthu Sathiyanathan (26) of Naampanku'lam in Oamanthai, police sources said.
The police suspect that both youths were shot dead before being burnt.
Bodies were handed over to their relatives after postmortem examination held in the Vavuniyaa general hospital Wednesday evening.
(For updates you can share with your friends, follow TNN on Facebook, Twitter and Google+)