Cricket Dhoni, cinema Danny: Lakshmi Rai's love track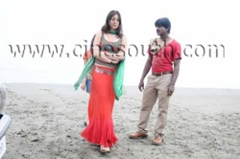 Lakshmi Rai's love track is going on great with a Dhoni in cricket and a Daniel in films.
The connection between Rai and Dhoni started in mid 2008. It started as a spark and the rumours burnt into as big fire. Whenever Dhoni came to play cricket in Chennai, Rai would make her appearance at his hotel without fail. Despite heavy security, Dhoni would ask his security to let Rai even up to his room that as a result, even without further questions, they allow her.
After the initial Chennai meetings, it seems the Rai-Dhoni meetings have graduated to rendezvous in hotels abroad too. While this is on one side, her cinema love seems to be Daniel Balaji.
Rai and Daniel co-star in 'Muthirai.' Recently, a duet was shot in Mauritius . It seems they acted on screen like really romantically involved. Totally there were 30 closeup shots taken and in all of them it seems he kissed her. As the shooting progresses, it's said so does their relationship.
(For updates you can share with your friends, follow TNN on Facebook, Twitter and Google+)