Jaffna people's resilience will trump current atmosphere of fear, says US diplomat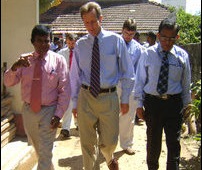 "Though the people of Jaffna peninsula live in an atmosphere of fear and difficulties they are looked upon as a people who successfully overcome them by everyone," James R. Moore, the Deputy Chief of Mission attached to US Embassy in Sri Lanka, said in an event held in the office of the Regional Director of Health Service (RDHS) in Jaffna Wednesday, sources in Jaffna said. Jaffna Government Agent, K. Ganesh, Regional Health Service Director, Dr. Ketheeswaran and other Government officials participated in the event where a new system of ambulance service was inaugurated.
"The American government is interested in encouraging medical service rendered by Non-government organizations in Jaffna peninsula," James R. Moore said.
"We have trained 50 doctors, 600 nurses, 150 drivers and 12,000 employees, in developing the medical service in Jaffna peninsula," he added.
An ambulance service where people in need of urgent medical treatment could call the hospital was inaugurated in the above event.
Many deaths have occurred in Jaffna peninsula during Sri Lanka Army (SLA) imposed curfew hours daily from 9:00 p.m to 4:30 a.m as SLA soldiers do not permit people to come out of their houses even for emergency medical treatment, civil society sources said.
The newly introduced ambulance service is a blessing to the people of the peninsula, they said.
Ambassador of United States of America in Sri Lanka, Robert Blake, who was expected to be the chief guest in the opening ceremony of the 'Health Village' constructed in Pa'n'nai in Jaffna Wednesday had cancelled his visit to Jaffna.
(For updates you can share with your friends, follow TNN on Facebook, Twitter and Google+)