Civilians flee war zone as Sri Lanka snubs Britain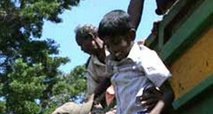 Hundreds more civilians fled Sri Lanka's war zone, the defence ministry said Friday, as Colombo angrily rejected Britain's appointment of a special envoy to address the island's humanitarian crisis.
Men, women and children from the minority ethnic Tamil community crossed the front lines in the district of Mullaittivu where the army has cornered holdout forces of the rebel Liberation Tigers of Tamil Eelam (LTTE).
"The people fled despite a series of barricades imposed by the LTTE to stall the civilian influx," the ministry said in a statement.
The government has accused the Tiger rebels of using civilians trapped by the fighting as "human shields" and of preventing them from leaving the area. The Red Cross says hundreds of non-combatants have already been killed.
The latest flight of civilians came as Britain said it had appointed former defence minister Des Browne as a special envoy to focus on the growing humanitarian crisis in Sri Lanka.
The move by the former colonial power was swiftly condemned by the government in Colombo.
"It is tantamount to an intrusion into Sri Lanka's internal affairs and is disrespectful to the country's statehood," Foreign Minister Rohitha Bogollagama told AFP.
The minister warned of "major repercussions" for relations with Britain.
"There is no further discussion with London on the matter," Bogollagama said, after the British Foreign Office had said talks were ongoing to resolve the dispute.
British Prime Minister Gordon Brown's office said Browne, who left office last October, would work with all sides.
Sri Lanka's media minister Anura Yapa said the government had voiced its "displeasure" to the British High Commission in Colombo.
"We are not a British colony any more," the minister said. "We are quite capable of looking after the internally displaced persons."
The government, which says it is on the brink of crushing the rebels, has resisted international calls to halt its offensive against the Tigers, who have fought since 1972 for the creation of an independent Tamil homeland.
On Thursday, Sri Lanka set up a new safe zone for non-combatants along a 12-kilometre (7.5-mile) stretch of coastline, effectively scrapping a smaller designated no-fire area.
Sri Lanka has resisted calls for a "no-fire period", amid claims from relief agencies that a "humanitarian catastrophe" was unfolding in the island's war zone, where tens of thousands of civilians are trapped.
Britain and other governments as well as rights groups have asked Tamil Tigers to allow civilians free movement.
(For updates you can share with your friends, follow TNN on Facebook, Twitter and Google+)