Downing Street red-faced after Sri Lanka condemns 'envoy'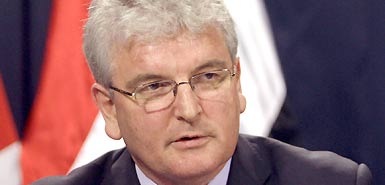 Britain was tonight embroiled in a diplomatic row with Sri Lanka after Downing Street mistakenly thought it had been granted approval to appoint a special envoy to focus on the country's deteriorating humanitarian situation.
The Sri Lankan government has angrily labelled the appointment of Des Browne, the former Defence Minister, as "extremely unhelpful" and warned of "major repercussions" for relations between the two countries.
Anxious to win its decades-long conflict against the separatist Tamil Tigers in the northeast of the country, it has brushed aside concerns over the humanitarian impact of its escalating battles.
Human rights organisations have warned that, as Sri Lanka's military pins the rebels down to a strip of jungle, around 250,000 people are stuck in the conflict zone and are being caught in the midst of the fighting.
Downing Street sources told The Times that David Miliband, the Foreign Secretary, had spoken to President Mahinda Rajapaska before making the announcement and believed he had been given the green light.
This morning, Mr Miliband was on the phone to his opposite number in Colombo to try to soothe Sri Lankan worries.
It is understood that the Sri Lankan Foreign Minister, Rohitha Bogollagama, is now reporting back to his government colleagues and will have further discussions with Mr Miliband over the weekend.
Last night, Mr Bogollagama condemned the appointment, saying: "It is tantamount to an intrusion into Sri Lanka's internal affairs and is disrespectful to the country's statehood."
The stand-off came amid mounting tension between Sri Lanka and the international community over the impact of the government's war against the rebels.
The military says that it is close to defeating the Tigers – a listed terrorist organisation in the United States, the EU and India – and accuses the rebels of using civilians as human shields.
Britain also expressed concerns last night about the Sri Lankan government's proposal to set up five camps to hold 200,000 mostly Tamil refugees from the conflict zone for up to three years.
"We do not believe current plans represent a sufficient solution by international humanitarian standards," a spokesperson for the Department For International Development told The Times.
"Prolonging the displacement of this very vulnerable group of people is not in anyone's interests."
Sri Lanka is calling the camps "welfare villages", but prominent Tamil critics have denounced them as "concentration camps".
(For updates you can share with your friends, follow TNN on Facebook, Twitter and Google+)