Nude hero in 'Udhiram'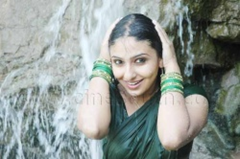 To grab the attention of viewers, the new lot of directors as well as actors come up with new ideas
"Sir, with the opening…" is how many directors start their story narration to producers. But new director Shankar is showing his film's hero all open in the climax. Shankar has already produced a film and now he's director/producer of this film.
For G Company, Shankar produced 'Silanmdhi' featuring Monica and directed by Adhi. Through 'Udhiram' he makes his debut as director. Newcomer Jagath is the hero, who appears nude in the climax scene.
When asked about the film, hanker says, "The English film 'Apocalypto' affected me greatly. Like that, I wanted to direct a film in thick forests. Hence 'Udhiram.' The villain keeps the forest as shelter while he loots the city. The hero uses the forest as weapon to destroy the villain.
Mumbai model Jagath is the hero. He took special training from forest dept security. Santhini, who is studying in class X in Kochi is the heroine. We have shot in the Thalaikonam forests, the forests bordering Andhra and Orissa with 3 cameras at one time. The climax takes place in slush. It was shot over 8 days and for that Jagath is nude with body totally smeared with slush.
(For updates you can share with your friends, follow TNN on Facebook, Twitter and Google+)