Journalist Sathiyamoorthy killed inside Safe Zone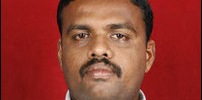 Puniyamoorthy Sathiyamoorthy, journalist and political analyst, well-known and highly respected by the Tamils in Eelam and among diaspora Tamils, sustained serious injuries in the Sri Lanka Army (SLA) artillery barrage Thursday on Theavipuram in the 'safety zone' declared by Sri Lanka government in Mullaitheevu district in Vanni, and succumbed to his wounds. Lack of proper medical attention contributed to his death, according to relatives who cared for him after the incident.
Born in Mannampiddi in Pollannaruva district to parents from Ma'ndaitheevu in the islets of Jaffna, Sathiyamoorthy later lived in Jaffna where he continued his studies in Jaffna University.
Entering the media field in the early 1990s he began contributing to 'Pulikalin Kural' ((Tigers' Voice) besides writing short-stories, poems and articles in the media including 'Ve'lichcham' magazine.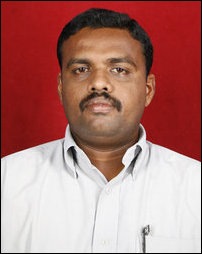 In the late 1990s he developed into a serious political analyst and also reported on military matters.
He wrote the military column in 'Eelanaatham' daily.
His writings on the territories recaptured by the Tigers in the Unceasing Waves -3 military missions reflect his style and accuracy of reporting.
He provided regular updates to diaspora media from 2003, and his political analysis of evolving situation in the NorthEast earned him high respect among the expatriate Tamils.
In Television appearances he projected a mature journalistic style and responded to opposing views in a manner that endeared him to the viewers. This propelled Sathyamoorthy's reputation as a journalist who had keen intellect to marshall the nuances of the constantly advancing media technology.
True to his name, 'Sathyamoorthy' (Manifestation of Truth), was known for his forthright and candid description of unfolding events, according to his media collegeues.
Sathiyamoorthy's remains were kept in one of the makeshift camps, draped with a saree for the lack of a proper coffin.
"Sathyamoorthy will be remembered by Eezham Tamils for his contribution to journalism, and for his active participation in preparing young journalists for the future," a young journalist in Vanni said.
(For updates you can share with your friends, follow TNN on Facebook, Twitter and Google+)