India ready to mediate between Sri Lanka and LTTE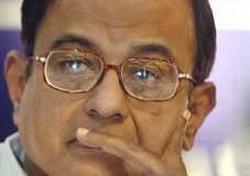 India is willing to arrange for a dialogue between Sri Lanka and the Liberation Tigers of Tamil Eelam (LTTE), if the ongoing civil war in the island nation stops.
Union Home Minister P Chidambaram made the offer at a public meeting in Chennai on Sunday.
But as a pre-condition Chidambaram asked the Sri Lankan government to stop its military operations and also asked the LTTE to lay down its arms.
"The government of Sri Lanka must suspend its military operations and simultaneously LTTE must declare its willingness to lay down arms and come to the negotiating table," Chidambaram said at a public meeting at Mylapore in Chennai.
India has already ruled out any possibility of it getting directly involved in Sri Lanka, but is still willing to mediate.
Chidambaram opined that the LTTE would have got political status long back had they accepted the 1987 India-Sri Lanka accord.
The United Progressive Alliance Government has been under immense pressure from its partners in Tamil Nadu to intervene and end the violence in Sri Lanka.
Meanwhile, the Sri Lankan Air Force sank three attack crafts of the LTTE in the northern Mullaittivu district on Sunday,
Around 2 lakh people are still stuck in the north eastern coast of Mullaittivu which is controlled by the LTTE
Captured LTTE cadre say their chief Velupillai Prabhakaran is still in the LTTE controlled area but his son Charles Anthony is commanding a major chunk of the LTTE forces.
(For updates you can share with your friends, follow TNN on Facebook, Twitter and Google+)