260 killed, SLA shells and boxes civilians, preventing movement to safer areas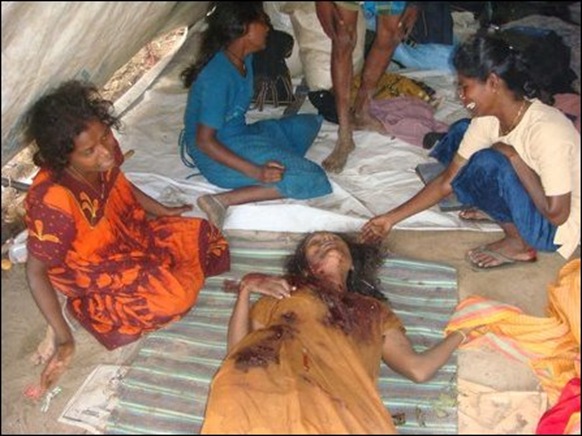 Sri Lanka Army (SLA) artillery barrage has boxed Theavipuram and Va'l'lipunam villages within the old 'safety zone,' trapping thousands of civilians preventing them from moving to the new 'safe zone'. Around 275 civilians are feared killed since Saturday and the roads remain continuously under heavy artillery barrage, civilians who managed to flee the area said on Monday. At least 5 humanitarian workers were killed while serving the needs of the civilians trapped inside the 'Theavipuram box'.
Three workers attached to Karaithu'raippattu Multi-Purpose Cooperative Society (MPCS) were killed Monday at Theavipuram while they were distributing humanitarian supplies. Four days ago, two humanitarian workers, a male and a female, were killed within the Theavipuram, Va'l'lipunam box while they were helping civilians trapped in artillery barrage.
Most of the civilian casualties are reported within the boxed area and along the roads.
The SLA, which unilaterally announced a new safety zone, within a narrow strip from Vadduvaakal to Puthumaaththa'lan, did not stop artillery barrage to enable displacement to new safety zone. At least 30,000 civilians remained within the bunkers in the old safety zone while more than 70,000 fled the area amidst continuous artillery barrage.
The SLA also targeted the two roads used by civilians to flee from the old safety zone with artillery barrage. Surveillance aircrafts were flying over and giving coordinates to the SLA, which targeted fleeing civilians claiming several lives and causing injuries to many more. Seriously wounded, unable to move, were left behind to face their fate on their own due to the relentless artillery barrage. They were only given initial first-aid.
Humanitarian workers who fled the area said they feared more than 250 civilians were killed within the last 3 days.
16 civilians, most of them belonging to three families were killed in Ira'naippaalai, located between the new and old safety zones Saturday night around 8:30 p.m. when artillery-fitted cluster bombs hit their makeshift huts.
8 civilians were killed in Pokka'nai within the new safety-zone Sunday night.
3 fishermen were reportedly killed in the seas off Mullaiththeevu Sunday morning around 10:00 a.m. when the Sri Lanka Air Force (SLAF) bombers attacked their boats near an abandoned ship.
(For updates you can share with your friends, follow TNN on Facebook, Twitter and Google+)