Sampanthan accuses SL government of false propaganda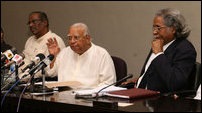 "International media black out news of the Tamils in Vanni being killed in the Sri Lanka government's indiscriminate artillery barrage and bombings while publishing the false information spread by the Sri Lanka government," said Tamil National Alliance (TNA) parliamentary group leader, R. Sampanthan, in a press meet attended by a large number of local and international journalists Tuesday afternoon in Sri Lanka parliamentary complex, sources in Colombo said.
"More than 2000 Tamils have been killed while more than 4500 injured in Vanni due to the unrelenting attacks by the three armed forces of Sri Lanka government in the recent past," Sampanthan said.
"This is but the schemed and systematic genocide of the Tamils," he said and added that the bodies of the killed innocent Tamils lie along streets unattended.
Sampanthan pointed out that there is no medicine in Vanni for the people injured in the indiscriminate attacks by the government armed forces.
"The government spreads false information that the Liberation Tigers are killing the Tamils who come out of Vanni while it is the armed forces of the government which are killing the Tamils in Vanni. Why should the Tigers kill the Tamils who have been living with them all these years?" he asked.
"The government does not permit even us, the elected representatives of the Tamils, to visit the Tamils who have come from Vanni and held in the detention camps in Vavuniyaa," he said.
"The international community should come forward to stop the annihilation of the Tamils by the government of Mahinda Rajapakse," Sampanthan appealed.
He also appealed to President Mahinda Rajapakse government to stop the war on Tamils immediately.
Sampanthan requested the international media journalists to publish the true information without giving prominence to the false information provided by the government.
(For updates you can share with your friends, follow TNN on Facebook, Twitter and Google+)