No idea to buy an island, says Trisha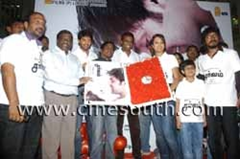 What do you do with the money you earn? This is not from the mouth of an income tax official but from a reporter. Any other person would have burst into anger, but Trisha was the soul of patience when she responded.
The audio release of 'Sarvam' took place day before yesterday at City Towers before lots of rasikas. After the function, director Vishnuvardhan spoke to reporters.
"This film will have no resemblance to 'Billa' as I've directed it from a totally different angle. I have depicted Arya in a totally different image in this film. Trisha also looks very fresh in this film. I feel Arya and Trisha make a good pair. After this film, this pair will be a big hit. The Telugu actor JD Chakravarthy, Prithviraj's brother Indrajit from Malayalam are also in this film. The 8 year old Rohan and a Rottweiler with unique qualities are an important part of the film. The cinematography would be as good as
Hollywood standards. It's true Trisha dos a glamorous role, but it's beautiful and not obscene."
After Vishnuvardhan finished his statement, the reporter asked Trisha the question we mentioned earlier. Many actors/actresses are buying islands. Do you have any plan to?
"Whatever I earn, I put in the bank. I have no idea of buying any island. " It is Arya who is into business. You should ask him that question," said a cool Trisha and her pert answer was enjoyed by her mother Uma as well as those present.
Do you want to go as brand ambassador for IPL cricket?
(For updates you can share with your friends, follow TNN on Facebook, Twitter and Google+)