Running the gauntlet in Sri Lanka's war zone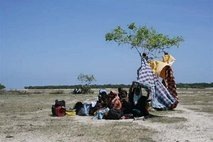 Shopkeeper Subramaniam Sudaharan says he is lucky to be alive after his two teenage sons were shot dead as the family fled Sri Lanka's increasingly brutal war zone.
What was left of the devastated family — he, his wife and a younger boy — were among 440 war-wounded evacuated from the conflict area to the nearby port of Trincomalee, leaving behind 100,000 people to run the gauntlet to safety.
"We came under fire. My two boys aged 14 and 16 were killed. Our younger son and my wife were also hit," Sudaharan told reporters at Trincomalee as he walked off a Red Cross ferry and into a government hospital.
"I suffered minor injuries. We are lucky to be able to get out."
He accused the Tamil Tiger rebels, saying they were using civilians as cover to launch attacks against government forces, a charge also repeatedly made by the military, international aid agencies and the United Nations.
The International Committee of the Red Cross (ICRC) says a humanitarian catastrophe is unfolding in the northern region, where the military says it has slowed an offensive to crush the rebels out of concern for civilians.
The battle-scarred area is running out of medicine, food and other essentials, according to the ICRC.
However, the war is conducted with hardly any independent witnesses because the government has severely restricted reporting from the troubled area with diplomats, rights activists, relief workers and independent journalists barred.
However, reporters were allowed limited access to the wounded disgorged from the Red Cross ferry on Monday evening, although television crews were later banned from filming the victims.
The Tigers, who are fighting for an independent Tamil homeland, insist that the civilians are happy to be with them, but those who made the hazardous journey to cross the front lines have a different story.
Krishnapulle Ganesh, 63, said he was in a group of civilians who trekked through a jungle to escape Tiger territory, but they were attacked by guerrillas who pushed them back.
"About 10 or 15 people died when the Tigers opened fire at us last week," he said while holding his bandaged right hand, which had taken several gun shots.
"We don't want war. Our children have been killed. We don't have any houses left. By the time the Tigers get a separate state, there won't be any people."
The ferry-load of injured civilians was taken to the main hospital here, which the Tigers once wanted as the capital of their separate state. Trincomalee is 260 kilometres (160 miles) northeast of Colombo.
But the Tigers appear to have completely lost their conventional fighting capability after two years of intense operations by government forces.
Mary Joseph, an elderly heart patient, said her son was shot and wounded when they tried to escape from a rebel-held area of Mullaittivu district last week.
"Our family members are still in Mullaittivu," she said. "I feel sad when I think of them. Tigers won't allow them to get out."
K. Nadarajah, 68, tried to flee earlier in February but was shot and wounded. "Families have been separated. I don't know where the rest of my family is. I was evacuated because I was wounded," he said.
Another apparent victim of the rebels, Shanmugam Sunderam, 51, had been moving from one village to another as the Tigers retreated in the face of a major military offensive launched early this year.
"A group of about 1,000 of us tried to cross the front line, but we came under shell attacks. We were also fired at and I was hit in my arm and leg," Shanmugam said. "All we want is to be left alone."
(For updates you can share with your friends, follow TNN on Facebook, Twitter and Google+)