SLA artillery fire hits new 'safety zone', 108 killed, 200 wounded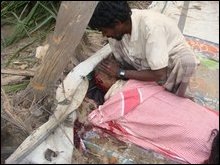 Sri Lanka Army (SLA) launched indiscriminate artillery barrage into the newly announced 'safety zone' killing at least 108 civilians and causing injuries to more than 200, according to initial details from the medical sources in the area. Every shell that hit the area seemed to have caused casualties, said a doctor at the makeshift hospital at Maaththa'lan. More than 100,000 people have been forced into a plain and narrow strip along the coast, north of Mullaiththeevu town, without potable water. Meanwhile, relentless artillery barrage by the SLA has boxed Theavipuram and Va'l'lipunam villages within the old zone, trapping thousands of civilians preventing them from moving to the new 'safe zone'.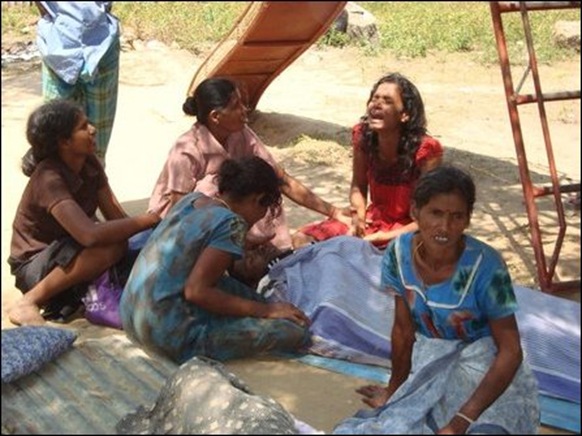 The artillery barrage lasted from 1:00 a.m. to 5:00 a.m. and targeted Maaththa'lan, Pokka'nai, Mu'l'livaaykkaal within the safety zone and Ira'naippalai.
Meanwhile, Sri Lanka Air Force (SLAF) fighter jets have also attacked Ira'naippaalai, the new centre for humanitarian and basic facilities, located between the new and old safety zones.
On Tuesday, at least 15 people, fleeing from the old 'safety zone' towards Maaththa'lan, were killed in artillery barrage.
TamilNet: 18.02.09 SLA artillery fire hits new 'safety zone', 108 killed, 200 wounded
(For updates you can share with your friends, follow TNN on Facebook, Twitter and Google+)