Sri Lanka rejects truce call as fighting escalates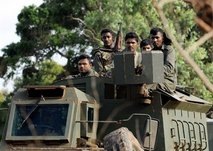 Sri Lanka's government on Wednesday rejected fresh calls for a truce with Tamil Tiger rebels as security forces took another village previously held by the cornered guerrillas.
Defence spokesman Keheliya Rambukwella said the government was firmly committed to wiping out "terrorism" and described the demand for a ceasefire from a Tamil Tiger proxy as "laughable."
"We have taken a policy decision to completely root out terrorism," Rambukwella told reporters here. "There will be no ceasefire with the LTTE (Liberation Tigers of Tamil Eelam)."
The ceasefire appeal had come from the Tamil National Alliance, which has 21 legislators in the 225-member national parliament.
Government troops are on the verge of crushing the LTTE and ending their 37-year campaign for an independent Tamil homeland after pushing the rebels back into a small stretch of coastal jungle — less than 100 square kilometres (38 square miles) in size — in the island's northeast.
A senior military official said security forces had taken another village that was previously under Tiger control.
The LTTE on Wednesday denied United Nations allegations that it had stepped up the forcible recruitment of child soldiers ahead of a final showdown with the advancing government troops.
"We categorically deny the recruitment of anyone below an 18-year limit," the head of the LTTE's political wing, B. Nadesan, told the pro-rebel Tamilnet.com website.
The UN children's agency (UNICEF) accused the rebels of conscripting children as young as 14 years of age.
The Tigers have a long record of using child soldiers, and have recruited more than 6,000 since 2002, according to UNICEF.
As well as denying the charge, Nadesan alleged that the Sri Lankan army had killed, tortured and imprisoned Tamil teenagers suspected of having rebel links.
(For updates you can share with your friends, follow TNN on Facebook, Twitter and Google+)