30 families wiped out in massive attack Wednesday
Sri Lanka Air Force (SLAF) fired 32 bombs, both cluster and bunker busters and Sri Lanka Army (SLA) fired more than 200 artillery shells, wiping out more than 30 families along the Iranaippaalai Ananthanpuram Road where humanitarian institutions including orphanages, houses of displaced and elders were located, TamilNet correspondent in Vanni reported on Thursday. More than 180 huts were destroyed in the massive bombardment. Meanwhile, 24 civilians were killed in Puthukkudiyiruppu in SLA artillery barrage in the early hours of Thursday. 10 more civilians were killed in Ira'naippaalai, Aananthapuram and Valaignarmadam villages.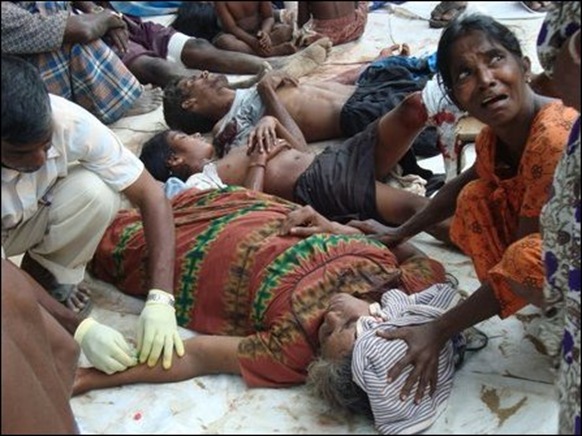 patients at Maaththa'lan hospital. Most of the patients are being treated under the trees in the vicinity of the makeshift hospital. An ICRC official who came to Vanni with inadequate humanitarian supplies on Wednesday was invited to the makeshift hospital and made to witness the plight of the wounded, a doctor at the hospital said.
On Thursday, 3 members of a single family were killed in Valaignarmadam, which comes under the new security zone.
The artillery attack was reported from 2:00 a.m. in the morning.
A deputy planning director attached to the Mullaiththeevu District Secretariat, 43-year-old Sriskandarajah Shanthi, has lost her left leg in the Sri Lankan attack.
Most of the slain civilians have been buried by the relatives without any inspection or registration.
Also, dead bodies that were brought to hospital in Maaththa'lan were buried, including the bodies that were not identified, as there was no proper mortuary facilities for the preservation of the dead for identification.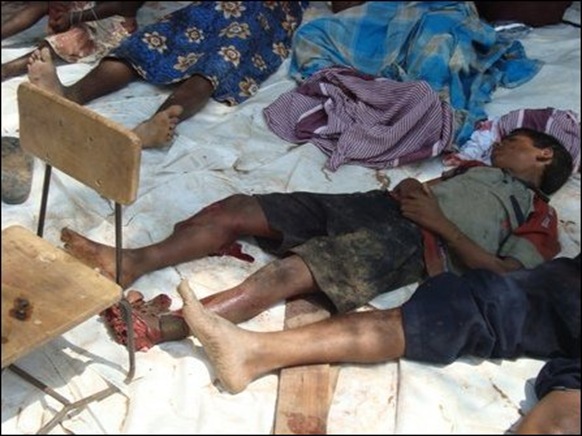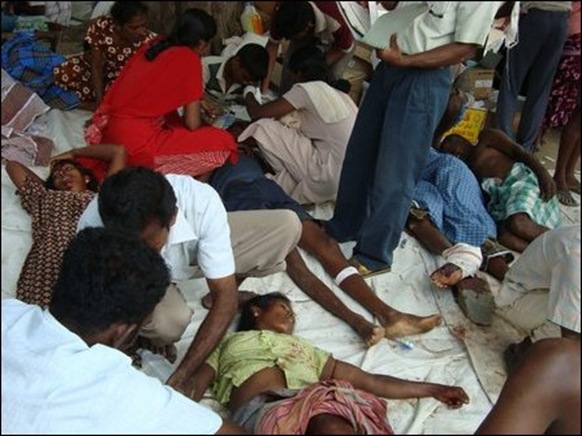 (For updates you can share with your friends, follow TNN on Facebook, Twitter and Google+)