15,000 Diaspora Eelam Tamils demonstrate in Geneva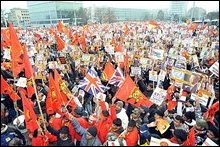 More than 15,000 Diaspora Eelam Tamils from all over Europe gathered in front of the UN office in Geneva in Switzerland Friday voicing their demands calling the Sri Lanka government of stop the war on Tamils at once. The representatives of the Eelam Tamils youth organizations handed a memorandum to the officials of the UN, during the demonstration.
The demonstrators began their march from the park next to Geneva Railway Station bearing placards showing slogans such as, 'We want Tamil Eelam', 'Our Leader is Pirabakaran' and, 'Sri Lanka Government! Stop the war!'
The demonstrators paid their homage to Murukathasan who had immolated himself in front of the UN office in an attempt to draw the attention of the world to the unending sufferings of the Vanni Tamils in the artillery barrage and bombings by the armed forces of Sri Lanka.
They laid flowers on the dais constructed for the portrait of Murukathasan in front of the UN office.
They also burnt and tread upon the national flag of Sri Lanka and kicked the effigy of Mahinda Rajapakse, the president of Sri Lanka.
The youths, representing the various European countries delivered speeches in the languages of the countries they represented.
Tamil National Alliance (TNA) parliamentarian, Jeyananthamoorthy addressed the gathering.
TamilNet: 22.02.09 15,000 Diaspora Eelam Tamils demonstrate in Geneva
(For updates you can share with your friends, follow TNN on Facebook, Twitter and Google+)