Mom's blessings got him Oscar, croons Rehman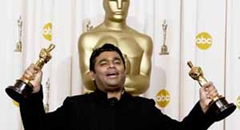 As far as Indians are concerned, getting the Oscars are unrealistic day dreams. But AR Rehman has shattered that belief now and thrilled many a Tamilian across the globe.
Before the Oscar Awards, Rehman had given an interview to an American daily. "It took only 3 weeks to compose music for 'Slumdog.' When I see a film, I immediately know what type of music I need for the film. There will be no other thought in my mind."
If he got an Oscar, he knew he would have a greater opportunity to prove himself because of the award. "What if" has now become true.
"Before coming here, I was happy but rather nervous. It was like going to attend a family wedding. The reason for this award is my mother's blessings. I take this opportunity to thank my mother, all the musicians who worked with me and the Academy for this award. In my life, I have the chance to give love or to make enemies. I chose love. If God is with us, everything is possible. I dedicate my award to India ."
(For updates you can share with your friends, follow TNN on Facebook, Twitter and Google+)