Children vulnerable to SLA shelling in new 'safe zone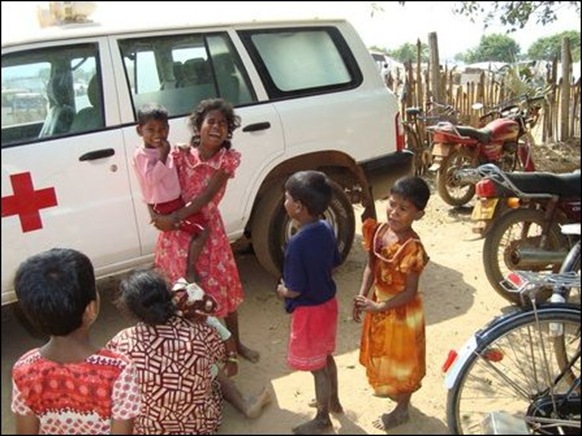 Every shell being fired by the Sri Lanka Army (SLA) into the 'safe zone' inflicts civilian casualties as the entire area is tightly populated, reported TamilNet correspondent on Tuesday. A single artillery shell fired around 5:00 a.m. on Tuesday claimed the lives of 6 civilians, including two teenage boys. The attack has taken place near the makeshift hospital at Puthumaaththa'lan. Many of the wounded were children among the 98 injured civilians admitted Sunday and Monday, according to medical authorities.
Sri Lanka Army (SLA) fired an artillery shell Tuesday morning around 5:00 a.m. in the vicinity of the only functioning makeshift hospital inside the 'safety zone', killing 6 Tamils who had displaced from Ira'naippaalai and settled there Monday night.
Four of the six victims killed Tuesday morning, identified as relatives, were N. Iyalavan, 12, Sreetharan Kirithas, 17, Jeyabalasingam Parthipan, 20 and V. Kamalesvary, 40. They had moved into Puthumaaththa'lan only Monday night from Ira'naippaalai. The other two killed were yet to be identified and their dead bodies were taken to Puthumaaththa'lan hospital, situated nearby.
On Monday, 3 dead bodies of civilians were brought to the hospital with 11 wounded, including many children. 10 more civilians were feared killed Monday, according to medical authorities. But, according to local media reports 32 civilians were killed on Monday.
(For updates you can share with your friends, follow TNN on Facebook, Twitter and Google+)