Norwegian Tamils demonstrate in front of Norway parliament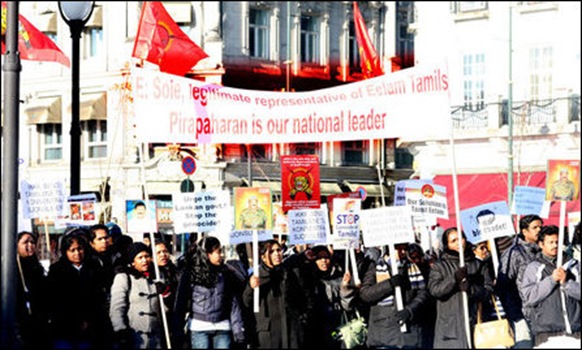 Hundreds of Norwegian Tamils including many youngsters gathered in front of Norwegian parliament Monday around 1:00 p.m where they urged Norway government to help bring about a ceasefire immediately to stop the genocide of Tamils in Vanni. Tamil Youth Organization (TYO) which organized the above demonstration in which members of Norway political parties addressed the gathering submitted a memorandum to Norwegian parliament.
"Seven years have gone since the signing of the ceasefire on 22 February 2002 by the Sri Lanka government and the Liberation Tigers of Tamil Eelam (LTTE) with Norway as the principal mediator but Sri Lanka has unilaterally abrogated the accord and expelled the Norwegian Monitoring Mission from Sri Lanka," TYO representatives said.
"Sri Lanka government has unleashed a merciless genocidal war on the Tamils creating a humanitarian disaster in Vanni and we are demonstrating here today to stress the need to stop the war on the Tamils immediately," they added.
Akthar Chaudry, MP for Socialist Leftist Party (SV), Kjell Veivåg, Leftist Party Oslo Municipal Council member, Front, Eskil Pedersen, Vice President of Labour Party Youth and Negar Enayati, Red Party (Rød Valgalliance) Oslo Municipal Council member, addressed the gathering voicing the sentiments of the demonstrators.
Norway should immediately act to help in stopping the Sri Lanka government's genocidal war on the Tamils.
Norway, which is clearly aware of the ground situation in Sri Lanka should set an example to the rest of the world to recognize the right of self-determination of the Tamils in Sri Lanka.
International Humanitarian Organizations and Media should be allowed access to Vanni so that the real situation could be brought to light.
The demonstration continued until 3:30 p.m.
(For updates you can share with your friends, follow TNN on Facebook, Twitter and Google+)