Urgent need for end to Sri Lanka crisis: UN chief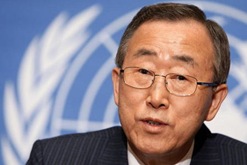 UN Secretary General Ban Ki-moon restated his concern Monday about continued hostilities between rebel and government forces in Sri Lanka, and called for a peaceful resolution to the conflict.
"The UN deplores the increasing casualties among civilians trapped in the intense fighting between the government and the LTTE (Liberation Tigers of Tamil Eelam) over the last several days," Ban told reporters.
The global community "would strongly support a suspension of fighting for the purpose of allowing safe passage of the civilian population trying to flee the conflict," he added.
The island's military rejected Tamil calls for a truce Monday, as rebel forces remained cornered northeast of the island.
The rebels said the global actors such as the United Nations, United States, the European Union and Japan must pressure the Sri Lankan government to accepting a ceasefire.
"There is an urgent need to bring this conflict to an end without any further unnecessary loss of civilian life and destruction of Sri Lankan society," Ban said at the UN headquarters in New York.
"The United Nations renews its call on all sides to pursue serious efforts toward political discussion to achieve an orderly end to the conflict."
The UN humanitarian chief John Holmes on Saturday urged for both sides in the civil war to avoid a "final bloody battle." He expressed concern for the tens of thousands of civilians trapped in the combat zone, but stopped short of calling for a ceasefire to allow civilians to leave embattled areas.
The Sri Lankan government estimates some 70,000 people are still trapped behind the front lines, while 36,000 civilians have crossed over into government-controlled areas since January 1.
(For updates you can share with your friends, follow TNN on Facebook, Twitter and Google+)