No negotiations with Tigers even if they lay down arms – SL Premier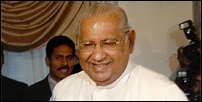 There is no need to talk to Tigers once they lay down arms, said Sri Lanka's Prime Minister Ratnasiri Wickramasinghe on Tuesday. "Sri Lanka will not give in to international countries and bodies pressurizing it to stop the war on Liberation Tigers," he said participating in an event held in his office where his son, Vithura Wicremanayake, handed over essential commodities collected by him for the soldiers engaged in the war in the north and those injured, to Sri Lanka Army (SLA) Northern Commander, media sources in Colombo said.
"Though pressure is exerted in various ways by the international countries the government will not stop the war on the Tigers until they are defeated," the Sri Lankan PM said.
"Sri Lanka is a sovereign state and cannot be commanded by anyone; the Tigers have to lay down their arms, unconditionally, and there is no room for talks with them," he further said.
"The international countries say that the Tigers should lay down their weapons and come to talks but the position of our government is that there is no need to talk to them once they give up their arms," Wickremanayake said.
"The truth is that some are asking us to stop the war in their own interests but there is no need for our government to act so as to fulfill their selfish motives," he said.
His son, Vithura Wicremanayake, the Sri Lanka Freedom Party (SLFP) organizer and the prospective candidate for Korana electorate, had walked a hundred miles in the electorate with his supporters and had collected the things to be given to SLA soldiers.
(For updates you can share with your friends, follow TNN on Facebook, Twitter and Google+)