Ilayaraja is beyond awards like Oscar, says Isai Puyal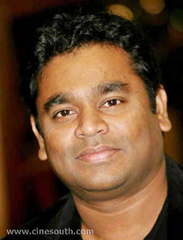 All the media came together last evening. This was for the formal interview by the Isai Puyal who has just returned to Chennai after winning the Oscars.
The proud mama Garima Begum made a grand feast to welcome her son while the media got ready for the live telecast of the interview. As AR Rehman entered the room at 4.15pm , the press greeted him with joyful cries and claps. Rehman started by apologizing for oversleeping due to jet lag and hence his being delayed in arriving at the press meet.
There was a commotion as the press photographers vied with each other to photograph Rehman. "Please don't squabble. I won't run away. I will pose for everyone," said Rehman but the scramble and commotion did not end, so Rehman playfully quipped, "OK, then I think I will leave." That worked and everyone settled down.
Here is what Rehman said:
"I did not expect that I would win an Oscar for 'Slumdog Millionaire.' Just because I won an award for this, I cannot say that this is the best film I've worked in. What I could say is, among the Hollywood films I've composed music for, this is the best. Hollywood is full of praise that this is the best film of Danny Boyle.
I may have stepped into Hollywood and won an Oscar, but I will still compose music for Tamil films. However, I will be very careful about my choice. I'm positive that other Indian composers, especially from Tamilnadu, will also win Oscars. There's an effort to set Thirukkural to music. I spent sleepless nights before the Oscar. I was practicing for the stage show. After the award was announced, prominent personalities like Steven Spielberg and Michael Jackson congratulated me. Tamil film personalities also conveyed their best wishes to me. Yuvan sent me an email that his father and family were very happy to hear the good news."
What about the adverse criticism about 'Slumdog Millionaire'?
"The story is about a poor boy, who wins a game show and comes up in life. This film will give encouragement to the young generation."
You could have mentioned the Srilankan Tamils during the Oscar speech?
"That would politicize the function. The Oscar stage is not the right setting for such talk. No one wants people to die at war. I also want peace to prevail in Srilanka. I pray to God for that."
If you are given an MP post, would you accept it?
"Gosh! That would become a bigger matter than Oscar. Please let me be!"
Why is it that Indian films continue to not get the Oscar?
"A worthy film would definitely win the award. Japanese and Iranian films also get Oscar awards. I did think earlier that 'Lagaan' may win an Oscar. Surely Tamil films could also get the distinction."
One last question. What's your comment on Ilayaraja?
(For updates you can share with your friends, follow TNN on Facebook, Twitter and Google+)