Great danger' for civilians in Sri Lanka conflict: UN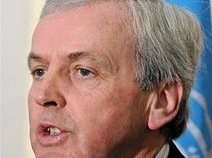 Tens of thousands of Sri Lankan civilians face "great danger" after being caught in fighting between Tamil rebels and the advancing military, a senior UN diplomat warned on Friday.
"Estimates vary of the number of civilians trapped, from 70,000 according to the government, through around 200,000 according to UN estimates, up to 300,000 or more according to Tamil groups," said UN Under Secretary General for Humanitarian Affairs John Holmes told Security Council members.
The civilians were stuck in a no-man's land spanning around 14 square kilometers (five square miles), as expectations grew that government forces would move in on Tamil positions in short order.
"They now face very great danger from fighting between the Sri Lankan government forces and the LTTE (Liberation Tigers of Tamil Eelam). And there is strong evidence that the LTTE are preventing them from leaving," said Holmes.
"I urge again all those with any influence on the positions of the LTTE to use that influence now to persuade them to let the civilian population go. There is no time to lose."
He also called on the Sri Lankan government to "hold back from any final military battle in order to allow time for the civilian population to get out safely."
The British and French ambassadors to the United Nations both stressed the need for a negotiated solution to the decades-old conflict.
French UN Ambassador Jean-Maurice Ripert called on the parties to "do everything in their power … to protect the civilian population and to assure access for humanitarian aid, without restrictions."
Holmes warned earlier this month that civilians were dying every day inside the war zone, where government troops are fighting to crush the Tigers' decades-long armed campaign for an independent Tamil homeland in the majority Sinhalese nation.
(For updates you can share with your friends, follow TNN on Facebook, Twitter and Google+)