Sri Lanka troops enter last rebel stronghold: military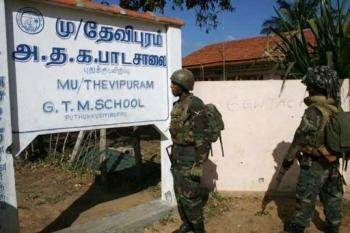 Sri Lankan troops entered the last urban area held by Tamil rebels, the defence ministry said Saturday, as the UN appealed to the guerrillas to let civilians leave the war zone to avert loss of life.
Government forces fought their way Friday into the small town of Puthukkudiriruppu despite heavy resistance from the Liberation Tigers of Tamil Eelam (LTTE), the defence ministry said in a statement.
Troops who entered the town "found the LTTE's high-tech satellite communication centre" and met "stiff resistance" as they advanced into built-up areas, the statement said.
The LTTE did not comment on the latest fighting, which has raised alarm about the safety of tens of thousands of civilians trapped in the war zone.
Civilians "now face very great danger from fighting between the Sri Lankan government forces and the LTTE. And there is strong evidence the LTTE are preventing them from leaving," UN humanitarian chief John Holmes said.
"I urge again all those with any influence on the positions of the LTTE to use that influence now to persuade them to let the civilian population go. There is no time to lose," Holmes told the Security Council in New York on Friday.
Estimates vary on the number of civilians trapped by the fighting, from 70,000 according to the government to about 200,000 according to UN estimates and up to 300,000 or more according to Tamil groups outside the country, said Holmes, who visited Sri Lanka this month.
He called on the government to "hold back from any final military battle in order to allow time for the civilian population to get out safely."
Holmes said civilians were dying daily in the conflict zone, where government troops are fighting to crush the Tigers' bid for an independent Tamil homeland in the majority-Sinhalese nation.
Government forces have pushed the Tigers into a narrow piece of land and say they hope to completely crush the rebels by April — a victory that would bring an end to 37 years of armed conflict in the South Asian island nation.
Sri Lankan soldiers recovered a large quantity of explosives, weapons and ammunition from bases abandoned by the guerrillas as they pushed into Puthukkudiriruppu town, the defence ministry said.
At least nine guerrillas were killed in Friday's heavy fighting, the ministry said, but it did not say if security forces suffered any casualties.
Sri Lanka's top defence official Gotabhaya Rajapakse said earlier this week the military push against the Tigers had slowed in a bid to ensure the safety of civilians whom he said were being held by the Tigers as human shields.
(For updates you can share with your friends, follow TNN on Facebook, Twitter and Google+)