Karunanidhi hails India's appeal to Sri Lanka on ceasefire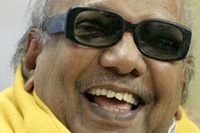 DMK President and Tamil Nadu Chief Minister M Karunanidhi today welcomed India's appeal to Sri Lankan government to seize the ceasefire offer made by LTTE and pause the hostilities to help people trapped in conflict zones, saying it came as a "whiff of fresh air."
In a letter to party workers, Karunanidhi recalled External Affairs Minister Pranab Mukherjee's statements on Saturday in Tuticorn that "the opportunity (LTTE announcing ceasefire) must be utilised to facilitate the movement of innocent Tamil people out of the war-affected areas to secure zones, where proper rehabilitation is possible."
"Mukherjee's words come as a whiff of fresh air to our burning hearts," he said expressing confidence that UPA Chairperson Sonia Gandhi and Prime Minister Manmohan Singh endorsed Mukherjee's statement.
The appeal had come about due to various pro-Sri Lankan Tamils activities in Tamil Nadu including adopting resolutions in the state Assembly and suicides committed by persons calling for ceasefire in the island nation, he said.
"The Government of India's call for a ceasefire gives me great relief," he said while equating it to the satisfaction over the successful medical treatment he had underwent for the last one month for back pain.
Karunanidhi said he joined the Centre in pressing for a ceasefire in Sri Lanka.
Karunanidhi also recalled Mukherjee's stress on "effective and proper devolution of power to provinces with assurances of equality and equal rights to all citizens, particularly Tamil people, within the constitutional framework of Sri Lanka and also maintaining its territorial integrity," following a ceasefire.
However, Karunanidhi in his letter, a copy of which was made available to the press, took exception to attempts to show black flags to Mukherjee and burning of his portrait, terming them as "not cultured."
MDMK leader Vaiko and others including members of the Sri Lankan Tamils Protection Movement, were arrested on Saturday when they tried to show black flag to Mukherjee while some MDMK volunteers burned his portrait.
(For updates you can share with your friends, follow TNN on Facebook, Twitter and Google+)