Ilayaraja's gift to AR Rehman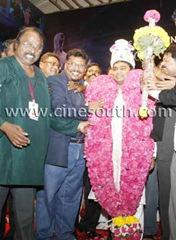 One could say there is not much jealousy among musicians. The Musicians Association arranged a grand function to felicitate AR Rehman and showered him with accolades and gifts.
At the function that took place yesterday, several stalwarts like MS Viswanathan, Ilayaraja and Vidyasagar participated.
Rehman started his speech with "Ellam pugazhum iraivanukke." "Everyone says, I receive the Oscar with the blessings of my father. That's true. I am reaping the benefits of his hard work. In the last 10 years, the Oscars always went to countries like Japan , China , and Italy ,
I always wondered why India could not receive it. We have maestros like Ilayaraja, MS Viswanathan, Naushad and KV Mahadevan. I have seen the great respect Ilayaraja commands here. That is greater than the Oscar honor. When I had hardly any free time, I composed music for 'Slumdog Millionaire.' It took me only 3 weeks to compose the music for the film. When I delivered the music, the Americans greeted me with a smile, the very smile that greeted me when I composed the music for 'Roja.'
I don't consider this my personal triumph. It is also of MS Viswanathan and Ilayaraj who are present here. When Balamuralikrishna spoke, one could gauge the depth of music. I thank all the musicians for having such a large heart. Each musician has a particular fan following. For praising me, don't scold another musician on the Internet, is what I request of my fans."
Those who spoke on the occasion included Balamuralikrishna, MS Viswanathan, Ilayaraja, producer AVM Saravanan, director K Balachander, music composers Deva, Vidyasagar, Harris Jayaraj, Bharadwaj, Devi Sriprasad, Shankar Ganesh, Yuvan Shankar Raja, playback singers TM Soundarajan, Mano, LR Eswari and S Janaki.
Ilayaraja gifted AR Rehman a gold chain and said, "Composer John Williams has won 4 Oscars. For that, it took him many years. Even before clicking our knuckles, our AR Rehman got 2 Oscars, one for each hand. That's a matter of great pride. Music is beyond awards. In music, there is a lower sthayi, upper sthayi and a topmost sthayi. As far as I am concerned, Rehman has ascended the topmost sthayi. My congratulations to him."
(For updates you can share with your friends, follow TNN on Facebook, Twitter and Google+)