Censor Board overlooks Sarath' smooching scene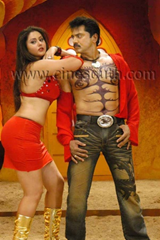 The Censor scissors has overlooked the Sarath-Farzana smooching scene.
'1977′ is due to be released on Friday. Starring Sarath Kumar, it is directed by Dinesh Kumar. Farzana is the heroine. Talking about the high and low points of the film after the film is released, serves no purpose so the director has come up with an idea.
A few days back, he screened the film to a wide variety of audience like college students, auto drivers, doctors and so on, to find out their reactions. On hearing their criticism on certain points, Dinesh Kumar set them right. On screening the film after the changes, he found the film better than before.
It seems Sarath Kumar sports some new mannerisms in the film. The fight scenes are supposed to be on par with Hollywood films. '1977′ was sent recently to the Censors. There is a smooching scene of Sarath and Farzana that the Censor originally wanted to snip off. But on hearing about the importance of the scene, they decided not to.
(For updates you can share with your friends, follow TNN on Facebook, Twitter and Google+)