Washington youths launch campaign to woo CNN's Anderson Cooper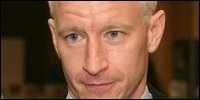 An international grassroots effort led by concerned youths in Washington State and Toronto area calls prominent CNN journalist, Anderson Cooper, to visit Sri Lanka and report on the growing culture of impunity towards media freedoms on the island. Driven by Jeffersonian instinct for the freedom of press, the Free-Our-Press website said the petition was inspired by the "call of conscience" of Lasantha Wickramatunga's final essay, where the late editor decried the plight of media freedom in Sri Lanka. The virtual campaign was launched with a new website that chronicles media suppression in Sri Lanka, and calls for 5000 supporters to join the campaign to woo Cooper.
"Anderson Cooper is one of the few who have the journalistic prowess to independently present stories from the world's hot-spots," the co-ordinator for the campaign said.
Organizers are hoping the international acclaim Mr. Cooper has received from reporting from numerous war zones including Afghanistan, Iraq, Rwanda, Bosnia and Vietnam, will draw greater international focus and attention to the increasing intensity of the conflict in Sri Lanka's north.
Lanka as "one of the most dangerous places in the world to report from," and Reporters Without Borders (RSF) has ranked Sri Lanka 165 of 173 in its 2008 World Press Freedom Index, the lowest ranking of any democratic country in the world.
BBC Radio recently suspended radio broadcasting in Sri Lanka after its radio broadcasts were allegedly interfered by Government run broadcasting media.
Organizers are planning to conduct targetted campaigns which they hope will help arrest the deterioration of media freedom and decreasing tolerance for dissent, and will spark changes towards independent and free media.
(For updates you can share with your friends, follow TNN on Facebook, Twitter and Google+)