Seeman to contest in the elections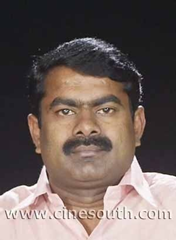 Seeman growls and the police arrest him is a continuing scenario that is to soon reach a pitch.
For talking against the Indian govt, in Pondicherry, Seeman was blacklisted. The police hunted high and low for him for 3 days, till finally, this Che Guevara disciple himself surrendered in Nellore.
Even in the Puduvai jail behind bars, Seeman continues to spout his convictions. With this on one side, news has leaked out that Seeman is to stand in the coming elections.
"I cannot take any personal decision about standing for election. My Tamil relatives and the great people behind me should make the decision for that. If they decide so, no one can stop my contesting. By putting me behind bars, no one can curtail me. This will not scare me. Wherever I am, my voice will not rest. My words will reach the people," says Seeman, giving credence to the rumour.
Seeman would contest from his own constituency of Sivaganga. Here, P Chidambaram or Thankabalu could contest for Congress. So, it's said that it's true Seeman would be contesting against one of them.
(For updates you can share with your friends, follow TNN on Facebook, Twitter and Google+)