Radhika hurt during 'Arasi' shooting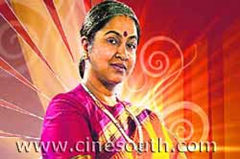 For fans of TV serials, some bad news is that Radhika got terribly injured during shooting.
Produced by Radaan, the serial 'Arasi' is being telecast on Sun TV. Some scenes of the serial are being shot on East Coast Rd in the Kalangarai Villakkam area. The scene shows Radhika chasing the villain fast on the steps of the lighthouse to catch him. As Radhika sped up the steps with the cinematographer following her shooting the scene, she suddenly missed her step, dashed against the wall and fainted.
Blood oozed from her head, shooting was stopped and she was taken immediately to a private hospital. A scan was taken and examined and Radhika was later discharged and sent home. Since she has received a head injury, it is learnt that Radhika will not be able to participate in shooting for a few days.
(For updates you can share with your friends, follow TNN on Facebook, Twitter and Google+)