Sri Lanka vows to open safe routes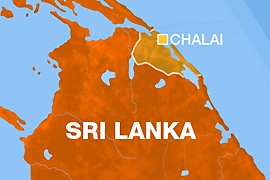 The Sri Lankan government has said that it will open two safe routes to let civilians escape fighting between the army and Tamil Tiger separatists in the northeast.
Aid groups have said that tens of thousands of civilians are trapped in a no-fire zone on a 12km strip of the coast.
"One route will lead north past Chalai and the other south past Mullaittivu town," a government official told the Reuters news agency on Thursday.
"The ICRC [International Committee of the Red Cross] has been invited to facilitate the movement along these routes."
Officials speaking on condition of anonymity said that orders for the plan had come from the president's security council.
The ICRC is the only agency which has been permitted a premanent presence in the conflict region.
UN concerns
The move came as the UN reasserted its concern over the mounting death toll, including many children, in the fighting.
Ban Ki-moon, the UN secretary-general, called on the government and the Liberation Tigers of Tamil Eelam (LTTE) to end hostilities, allow civilians to escape the area of conflict and provide access for humanitarian aid.
"There is an urgent need to bring this conflict to a speedy end without further loss of civilian life," Michele Montas, a UN spokeswoman said, speaking for Ban.
"The secretary-general is extremely concerned over the deteriorating situation for civilians trapped in northern Sri Lanka," he said.
"He strongly deplores the mounting death toll of civilians in the area of fighting, including a significant number of children."
A government doctor working in the region says shelling is continuing daily in a so-called "safe zone".
About 200,000 civilians are trapped in that area.
'Concerned about civilians'
Udaya Nanayakkara, the Sri Lankan defence spokesman, told Al Jazeera that the military has rescued sick and wounded civilians from the northeast.
"We are concerned about the civilians. We know there are civilians in the safe zones. We demarcated the safe zone for the civilians so they will not be harmed during out operations," Nanayakkara said.
"We are not engaging those locations considering the safety of those civilians.
"Yesterday, we made arrangements to rescue the sick and wounded … with the help of ICRC."
(For updates you can share with your friends, follow TNN on Facebook, Twitter and Google+)