Worsening Sri Lanka violence shakes British Tamils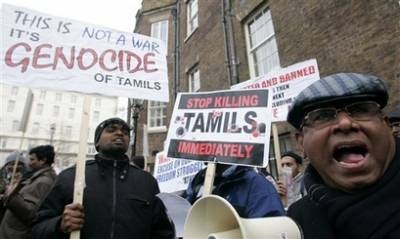 They have fled a quarter-century of horrifying civil war in Sri Lanka for safe haven abroad, but the more than 250,000 Tamils living in Britain have not managed to put the conflict behind them.
Thousands plan to gather Saturday for the funeral of a young man who burned himself to death to dramatize the situation in Sri Lanka, where starving Tamil civilians have been caught between advancing government troops and the once-feared Tamil Tigers, whose long, bloody quest for an independent homeland has been nearly crushed.
There are strong fears that others may follow the young man to an early death in a frenzied bid to focus attention on the plight of the Tamils, an ethnic minority in Sri Lanka. Already, a small wave of self-immolations has spread from South Asia to Western Europe.
"We understand why people are so desperate, but we don't want anyone to do something so drastic as to take their own life," said Sen Kandiah, a successful businessman and political director of the British Tamils Forum who has met with Prime Minister Gordon Brown to discuss the crisis in Sri Lanka.
Tamil civilians in Sri Lanka are being bombarded as the government moves to crush the retreating Tigers. British Tamils say their loved ones are running out of food, water and medicine and have no safe place to go in Sri Lanka.
Many Tamils feel their plight is being ignored — and some have turned to dramatic suicides as a way to get noticed as the global economic downturn dominates international news.
The actions of Murugathasan Varnakulasingham, just 26 when he set himself alight in front of a United Nations building in Geneva in February, reminded many of the Buddhist monks who burned themselves to death in Vietnam to protest government repression there in the 1960s. Although Varnakulasingham died in Switzerland, he is being buried in Britain, where he lived.
Tamils say two others from their ranks have tried to burn themselves but were rescued before it was too late, including one who tried to torch himself in front of 10 Downing Street, where the British prime minister lives.
This follows the suicide-by-fire of about 10 Tamils living in Tamil areas of India.
Some younger Tamils who have lost loved ones in the recent fighting say they support those who choose immolation.
Mathy Subramaniam, also 26, lost his father in January when he was caught in a government air raid while on his bicycle in northeastern Sri Lanka. Subramaniam, his eyes tense and despairing, said he is in favor of using immolation as a means of protest.
"It's a good thing," he said. "Every day people are dying, and it must be stopped. I lost my father, I don't want to lose any other people, sister or brother or Mom or anyone."
He ekes out a meager living in a supermarket, but many older British Tamils are more established and are doing well in a wide variety of professions. There are fairly large Tamil communities scattered throughout the greater London area.
Their well-organized political efforts have won over some lawmakers who want the British government to push harder for a cease-fire in Sri Lanka, which gained independence from Britain in 1948, when it was still known as Ceylon.
Fighting between the majority Sinhalese and the minority Tamils broke out in 1983 and has raged ever since, transforming a lovely tropical island in the Indian Ocean into an inferno. Millions fled the island, some relying on people traffickers for dangerous, illicit voyages. Many went to Australia, the United States and continental Europe, but Britain, the old colonial power, remained a favored destination.
"There is a very large Tamil diaspora here, and they are for the most part British citizens, so these are our constituents and they are terrified on behalf of their family and friends in Sri Lanka," said Joan Ryan, a Labour Party legislator trying to prod the government into more forceful action. "We have a responsibility because of our historic role in Sri Lanka."
She said the Sri Lankan government has been successful in casting the Tamil Tigers as a terrorist group but that this does not excuse attacks on civilians.
The Tigers, who assassinated Indian Prime Minister Rajiv Gandhi in 1991, have been condemned by human rights groups for using child soldiers and other abuses. The US government has long classified them as a terrorist group.
"There have undoubtedly been atrocities committed by both sides, but what is happening now to innocent Tamil civilians cannot be justified by anybody's view of the Tamil Tigers," Ryan said.
She is worried that increasing numbers of young British Tamils are losing all hope.
"I'm very, very concerned that anybody should feel so desperate, so disenfranchised, so pushed away that the only way they feel they can draw attention to their suffering is to burn themselves to death," she said. "That cannot be acceptable."
Community activists fear emotions may run so high at Saturday's funeral that some younger Tamils might decide to follow suit and burn themselves.
"We are begging people that this should never happen," said Thaya Idaikkadar, chairman of the British Tamil Councillors and Associates group. "We don't want any more loss of life. We are going on radio and TV telling people not to do that."
(For updates you can share with your friends, follow TNN on Facebook, Twitter and Google+)