Vijayakanth grooves for MGR song!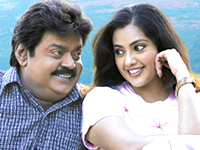 Vijayakanth is one guy who knows exactly how to manage time. That is precisely the reason behind his political career as well as his career in films running parallel. The 'captain' will soon be seen in a film titled 'Mariyadhai' which has director Vikraman calling the shots.
Apart from captain Vijayakanth, 'Mariyadhai' has Meena, Meera Jasmine, Ambika and Ramesh Khanna donning various roles. The music for this song will be dealt by Vijay Anthony and the film is being produced by Siva.
'Mariyadhai' has a special feature in it in the sense there is a remix song in the film. This seems to be the season of remixes because almost every new film hitting theatres these days has a remix number. The best part is that remix songs are well received by the crowd. 'Mariyadhai' has a remix number from the yester film 'Idhyakkanni' that had MGR and Radhasaluja as protagonists.
The song goes like 'Inbame Undhan Pear Penmaiyo…..' to which we can see our beloved captain grooving!
The remix song was shot at a harbour in Australia. It believed that to acquire permission for filming in this harbor is seldom possible, but this team not only acquired the permission but has also successfully completed shooting the remix song from this location.
(For updates you can share with your friends, follow TNN on Facebook, Twitter and Google+)