Indian High Commissioner rebuffs memorandum of Mauritian demonstrators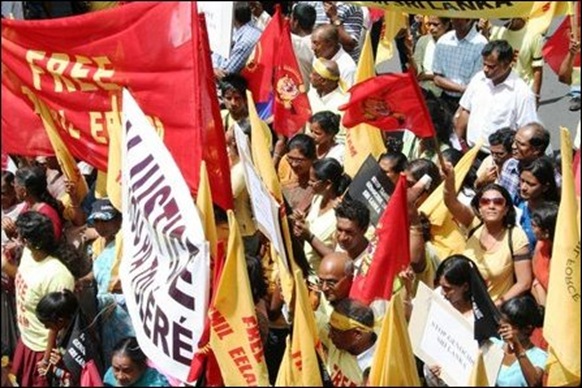 The Indian High Commissioner in Mauritius rebuffed a memorandum of thousands of Mauritian Tamil demonstrators Friday, requesting India to stop the war against Tamils in Sri Lanka. The representatives of the demonstrators were seeking to submit the memorandum in person to the High Commissioner who is a Tamil and they had informed the High Commission of their request five days in advance. On Friday, Third Secretary Ms Menon and the Deputy High Commissioner who received them, turned down their request. Angered at the contempt, the demonstrators chose to burn the memorandum outside the High Commission. The Vice Prime Minister of Mauritius and the Justice Minister were active participants of the emotion-charged demonstration, organized by National Movement Against Genocide of Tamils in Sri Lanka, reports Koomaran Chetty from Mauritius.
Mauritius Tamils in large numbers took to the streets of Port Louis highlighting the plight of Tamils in Vanni and supporting Eezham Tamils' right to self-determination.
Despite the downpour of heavy rain, over five thousand Mauritius Tamils participated the demonstration between 2:00 and 4:00 p.m., carrying the Tamil Eelam flag and banners depicting the suffering of their brethren in the Eezham Tamil homeland.
Mauritius Justice Minister Rama Velautham distributed pamphlets calling upon the Sri Lankan state to end the genocide of Eezham Tamils, while the Vice-Prime Minister of Mauritius participated in the rally expressing solidarity with the protesters.
Prominent Mauritius Tamil activists Koomaran Chetty, Veeran Kumaran, Vijayan Murugan, Ganeshan Perumal, former Tamil National Alliance (TNA) Parliamentarian M.K.Eelaventhan, and several political leaders of Mauritius spoke at the mass rally condemning the 'genocidal attacks' by the Sri Lankan state against Eezham Tamils.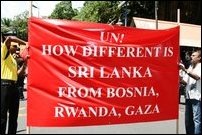 Several participants who took part in the protest voiced support for the establishment of the independent state of Tamil Eelam and started to chant slogans in support of the Tigers and the LTTE leader V. Pirapaharan An interesting note on the sidewalks of the event was the Indian High Commission officials greeting the demonstrators by saying 'Namaskaar' and the demonstrators returning it with 'Va'nakkam'.
India's role in the war against Tamils in the island of Sri Lanka, repercussions in Tamil Nadu, unrest related to Tamils in Malaysia, demonstrations in support of Eezham Tamils in South Africa and Mauritius being viewed with enmity by the Indian High Commissions – all don't augur well for the policies followed by the present Indian establishment, political observers feel.
Mauritius is an island nation in the Indian Ocean, off the coast of Africa, populated predominantly by the people of Indian origin who migrated in colonial times.
The majority community, which identifies itself as Hindu, largely consists people from northern India.
Tamils are a major identity among the minorities, along with peoples of African, European and Chinese origins.
Mauritius ranks first among all countries in Foreign Direct Investment (FDI) inflows to India amounting to a total of nearly 11 billion U.S. dollars.
(For updates you can share with your friends, follow TNN on Facebook, Twitter and Google+)